continued — "I think that is such a bad outlook if you think that," Clarke responded. "I think that you can be surprised by what you can do when you try. I know that you can look at things that way when you come from a town like Willsboro, but it simply is not the case."
Clarke added that while she was able to use skills that she learned in Willsboro (she said that she felt the public speaking program had a major impact), she also learned a lot from the show experience.
"I learned that there are a lot of cliches that are true," Clarke said. "I find that I live much more in the present. I am more willing to say yes, and I am able to relate to a lot more people."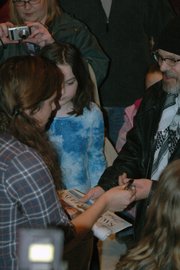 Clarke said that, as far as memorabilia, the only thing she took from the island was a puzzle piece from the final immunity challenge.
"I liked that one because I think it won me $1 million," she said.
As far as what she missed from the show, Clarke sounded like an avid outdoor-woman.
"I miss sitting around the campfire and looking at the stars with no television or phones around and just telling stories," she said.
Clarke also related the experience she had when she went to deposit the winner's check.
"I slipped the check into the teller like it was no big deal," she said. "The teller looked at it for a moment, then looked at me, and got all nervous and said he was going to have to talk to the manager. I finally told them what was going on and took a few pictures to remember the moment. They later told me that there was only one other time they could remember where someone deposited a big check, which was actually more than mine."
After the event, Clarke stayed to take pictures with those in attendance and sign autographs.
Vote on this Story by clicking on the Icon