Willsboro — The Willsboro Central School superintendent said what the whole town was thinking.
"Sophie, welcome home and congratulations," Superintendent Stephen Broadwell said in welcoming Willsboro alumnus and CBS television reality show winner Sophie Clarke back to the community, just over a week after she was named the $1 million prize winner Dec. 28.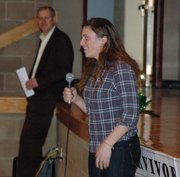 "Everyone has been sitting in front of the television watching you for the past several Wednesday nights, so it's kind of apropos that we are all here on a Wednesday night, but this time we have you here with us."
Clarke, who spent the time before the show in interviews with the local CBS affiliate and talking to friends who came out for the event, was then greeted by warm applause and several ovations throughout the hour-long question-and-answer period.
Audience members were able to ask a number of questions to the newest reality television star, with many focused on what the day-to-day life on the island where the show was filmed was like.
"You are stranded with 17 strangers on an island. You just kind of go insane," Clarke said. "You really create these bonds with people, and the most important thing becomes making these alliances so you can stay for another day."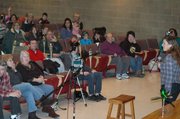 Clarke was also asked about bathrooms ("there are none"), what she had to eat ("I will never eat another coconut ever again"), food cravings ("I created my ice cream cake business because you were craving and thinking about sweets"), creating bonds with the other contestants ("it's like one of the Stockholm Syndrome things") and who she thought should have won if it was not here ("Brandon or Dawn, but I'd lean toward Dawn because she was really deserving").
Clarke also took questions from those who wanted to know what her advice would be to youth in Willsboro who may think that they are limited because of the small town attitude.
(Continued on Next Page)
Prev Next
Vote on this Story by clicking on the Icon