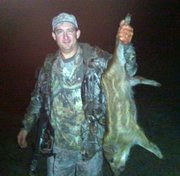 On Jan. 14, 2010, I was in Albany to attend a Roundtable Meeting with the NYSDEC, to discuss a wide range of sportsman's concerns and issues.
Representatives from over 40 different sportsmen's organizations and conservation councils including NYS Bass, Trout Unlimited, Ducks Unlimited, Pheasants Forever, NYS Houndsmen, National Shooting Sports Foundation, Safari Club International and others were in attendance.
At the meeting, DEC administrators covered a variety of issues such as license fees, the distribution of Conservation Fund monies, agency staffing concerns, special projects, hatchery rehabilitation projects, law enforcement initiatives, DEC Conservation Camp programs, Archery in the Schools, the importance of mentoring programs and much more.
However, the most alarming topic concerned the spread of a dangerous, new invasive species in New York, the feral swine.
At the time, wild hogs had already been discovered in over 16 New York counties, primarily in the southern tier. Although the origins of the swine in the Southern Tier were undetermined, they were known to have destroyed agricultural crops, ravaged the mast crop, killed fawns and endangered many species of birds, particularly ground nesters such as wild turkeys.
DEC biologists implored attendees to enlist the fellow sportsmen in the effort to control the hogs, before their populations became unmanageable, as they already are, in many other states.
In many southern states, feral swine have taken over, and displaced many native species. The porkers are believed to have descended from wild boar stock, and their physical appearance is closer to wild boar than to domestic pigs. There is nothing cute about them.
Populations can multiply quickly, as they can produce a litter every 4 months, with anywhere from 10 to 15 piglets.
Wherever they have become established, feral swine have caused incredible environmental impacts, by damaging crops, destroying native plants, reducing forest regeneration and competing with native species for food and territory.
Joe Hackett is a guide and sportsman residing in Ray Brook. Contact him at brookside18@adelphia.net.
(Continued on Next Page)
Prev Next
Vote on this Story by clicking on the Icon