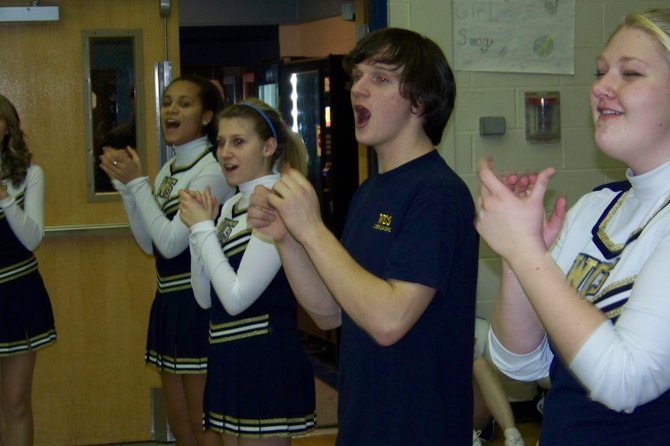 continued — Last year, Wood had just gotten out of a drama session, rehearsing for the school's production of "Little Shop of Horrors." He passed by the cheerleaders in the high school, and uttered a wisecrack of their jumping abilities. He chided them that he could jump higher and with more precision than any of them.
Challenged by the cheerleaders to surpass their attempts, he jumped high off the floor and executed a professional toe-touch routine on the spot.
Makala Hill recalled that she watched his jaw-dropping feat.
"I told him, you have to join us – then we literally forced him to."
Not long afterwards, he was practicing and performing routines for them at the Varsity games.
As might be expected, Wood took a little flak for his non-traditional role.
"At first, I got a little of the 'gay' crap here and there," Wood said.
The girls on the squad have defended his choice to take on a role traditionally reserved for girls, at least in locals' eyes.
Cheerleader Nequia Lagabeer said the cheerleaders watch his back and squash any discriminatory or derogatory comments.
"I tell them, if you have a problem with Seth on the squad, you have a problem with the whole team," she said.
Wood said he appreciates the support.
"At this point, most of the squad would go flippin' out and stand up for me if someone said anything," he said, adding that he plans to go out for cheerleading again in college.
The relationship between Wood and the other cheerleaders is apparently mutual.
Cheerleading coach Robin Mahler said Wood is viewed as a "big brother" by the girls.
Langabeer said the squad wouldn't be the same without the male influence Seth Wood provides.
"He's very athletic and helpful for the team – I feel safe with him around," she said. "He does a lot for the team, and we respect him for it."
Vote on this Story by clicking on the Icon