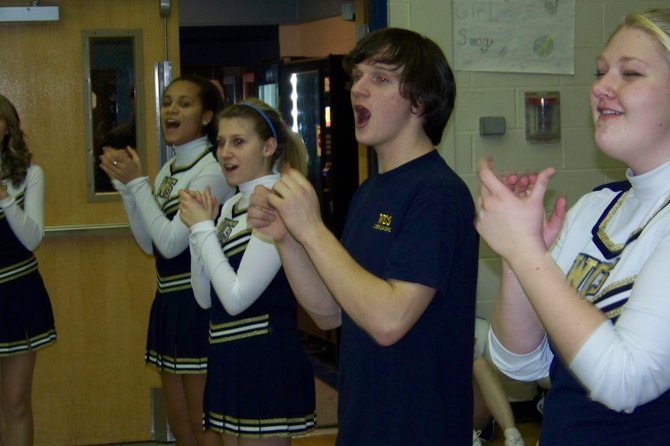 Warrensburg — Wearing the traditional pleated skirts, 10 or so cheerleaders at the edge of the Warrensburg High School gym's basketball court began a cheer to boost their team to victory.
"P – U – M – P, pump it up, pump that Burgher spirit up," they called out in treble tones, gyrating and waving their arms in unison.
One cheerleader, however, in blue sweat pants, yelled the same words out in a baritone voice – Warrensburg Senior Seth Wood.
In a blue-collar, conservative community that hosts hunters, loggers and construction workers, Wood has taken on an unconventional role – he's the second male in a half-century or more to join the high school's cheerleading squad.
During a Lake-George/Warrensburg girls basketball game Dec. 20, the 2011-12 Warrensburg cheering squad talked about Wood and his influence on their group.
Cheerleader Montgomery Sheridan said Wood has encouraged the cheerleaders to get into the best shape they can, and has shown them the basics of weightlifting, one of his fitness interests.
"He lifts weights, and he's tougher than some of the basketball players or wrestlers," she said.
Victoria Oehler said his fitness instruction has been helpful: "He taught us to lift straight," she said. "He encourages us to do our best."
Robin Winslow Mahler said West is not the first male student to join the Warrensburgh High School cheerleading squad. She said Jason Bell, a WCS senior during the mid-2000s, was perhaps the first ever to be a Burgher cheerleader. She said he was an accomplished breakdancer, and had the ability to run across walls, seemingly defying gravity.
West also has airborne talents, perhaps more conventional. He is able to kick his feet out to his sides, high and wide, and touch his toes – a traditional cheerleading routine.
It was this talent, the girls said, that got him involved in the squad to begin with.
(Continued on Next Page)
Prev Next
Vote on this Story by clicking on the Icon
More like this story