Elizabethtown — Friends of a Lewis teenager who died this past week gathered at the Elizabethtown-Lewis Central School the evening of Friday, Dec. 23 for a candlelight vigil.
Around 5:30 p.m., dozens of people held candles and shared memories of 16-year-old Ashley Grady, who was found dead in her home the morning of Dec. 21.
"It was an evening of tears, smiles and even laughter," said friend Brian Gay, who reported on the event for Denton Publications. "Stories were told by her peers of her 'doing what she wanted when she wanted.' Ashley was a girl that was known for her smile her laugh, and who could forget her sneeze? Everyone came to a consensus that she was a girl that would make anyone laugh and smile. She was also very welcoming to newcomers and made sure that everyone felt like they had a place. Her good mood and sense of humor was very infectious. This amazing young lady never will be forgotten."
Grady was a sophomore at the Elizabethtown-Lewis Central School and had recently celebrated her 16th birthday. She was a member of the school's soccer and basketball programs.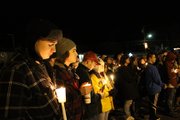 On Dec. 21, ELCS Superintendent Gail Else and Principal Jennifer Bull released a joint statement, which read as follows:
"We were sadly informed today that one of our students Ashley Grady, a 10th grade student here at ELCS, passed away. This news was a tremendous shock to the students, faculty and staff.
"Ashley was a well liked student and athlete who participated in both soccer and basketball. She will be deeply missed by her ELCS family.
"Due to the fact that we all deal with grief in different ways, protocols have been put in place along with counselors that are available for our students.
"Our conference room has been open and available for those students who wish to express their thoughts and condolences to the family. Our hearts go out to Ashley's family."
(Continued on Next Page)
Prev Next
Vote on this Story by clicking on the Icon