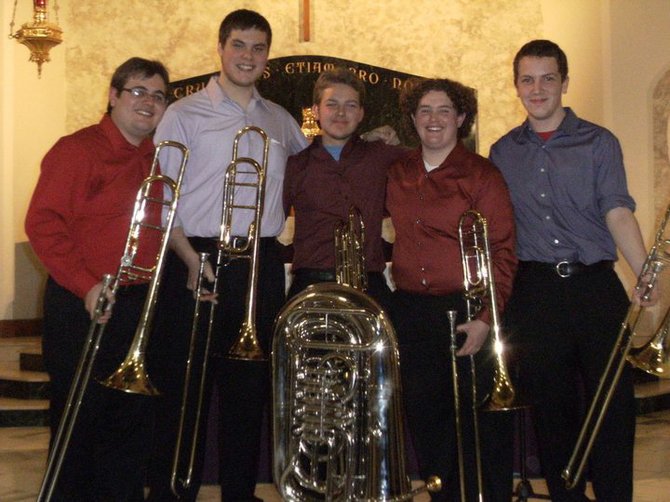 Ticonderoga — Megan Walls has always marched to the beat of a different...trombonist.
The trombone player earned a bachelor's degree in music at the College of Saint Rose and is now pursuing a master's at Illinois State.
She came home for the holidays, bringing a group of friends — the Snow Bones Trombone Ensemble.
The ensemble visited Ticonderoga High School, St. Mary's School in Ticonderoga, Willsboro Central School and Westport Central School performing an working with students. The group also presented a concert at St. Mary's Church in Ticonderoga to benefit the Moriah Central School women's chorus, which is raising money for a trip and performance at Disney World this spring.
Students are special to Walls, who hopes to become a music teacher.
"I realize how much my time at Ti High shaped my life," Walls said. "It opened doors I never knew existed. It game me great experiences I'll treasure for life."
Walls singled out Nelson Shapiro, Ti High music teacher, and Deb Breitenbach, Ti High English instructor, as being special people.
"They believed in me and helped me believe in me," Walls said.
Walls has applied to the U.S. Department of Defense education office in hopes of being hired to teach at an American military base overseas next year.
"I want to teach outside the U.S. for a couple of years," Walls said. "I think it would be a great experience."
For now, Walls is happy to help local students.
The Snow Bones Trombone Ensemble consisted of 12 trombones and a percussionist. The group formed after Walls sent out an Email asking for volunteers. There were five from the College of Saint Rose, two from the Crane School of Music (SUNY-Potsdam), two from the Eastman School of Music (University of Rochester), three from Illinois State University and one from the University of Southern Florida. All are majoring in music education, trombone performance, jazz trombone performance and music industry at the undergraduate, masters and doctoral levels.
(Continued on Next Page)
Prev Next
Vote on this Story by clicking on the Icon