Ticonderoga — Jacob Crowe planned on getting some rest over the holiday break.
"I'm not a morning person, so getting up early is no fun," the Ticonderoga High School
Photo Gallery
Ticonderoga High School Winter Concert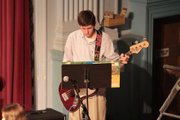 junior said. "I'd like to sleep in."
There's been little sleep for Ti's student musicians the past few months. They rehearsed for a series of holiday programs before and after school — often arriving for 7 a.m. jazz band practice and staying through 8:30 p.m. choir sessions.
"Our students are incredibly busy with academics, sports and music," Nelson Shapiro, Ti High music teacher said. "We have rehearsals whenever we can find the time around other activities. We rehearse before school, after school and students come in during free periods for individual lessons."
That work ethic impresses Shapiro.
"I never take them (students) for granted," he said. "I admire their work ethic and dedication. It's a privilege to work with them."
Crowe thinks it's a privilege work with Shapiro.
"'Shap' is the Ticonderoga music program," Crowe said. "He makes it all work. He says he's not a morning person, but I don't believe him. He's always here at 7 a.m. ready to go to work, full of energy. Sometimes when we're not at our best, he'll stop the rehearsal and tell us a silly joke. It's usually not a very good joke, but it wakes us up and gives us the energy we need to get going."
Ashley Costello, a junior, agrees.
"Mr. Shapiro is the only person I know who is wide awake at 7 a.m.," she said. "He's ready to work and we need to be, too.
"To think that one person can mean so much is amazing," she added. "He is Ticonderoga music."
Shapiro dismisses that talk. He pointed to the contributions of Michael Iturrino and Jolene Harrigan, other Ti music teachers, and credited the students for the success of the Ti music program.
(Continued on Next Page)
Prev Next
Vote on this Story by clicking on the Icon