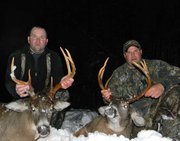 While some really nice antlers hit the forest floor this hunting season, I think the universal theme coming from Adirondack hunting camps was that less deer were being seen.
I know that was our experience at my camp.
The preliminary deer take numbers in the northern zone seem to follow that trend, according to senior wildlife biologist Ed Reed.
Reed said the number of deer reported to the DEC this season was down about 10 percent in the northern zone. Conversely, the deer take in the southern zone was up about 10 percent, he said.
"So, overall, I think the statewide total will be about the same as last year," Reed said.
Hunters harvested just over 230,000 deer in the 2010 hunting season, an increase of about 3 percent over 2009. The 2010 deer take included approximately 123,100 antlerless deer and just under 107,000 bucks.

Deer harvests in the northern zone in 2010 were very comparable to 2009, with adult buck take at approximately 16,100 and antlerless take approximately 12,500. In the southern zone, excluding Long Island, adult buck take in 2010 was approximately 89,900 while antlerless take was approximately 108,600.
If the numbers hold true to Reed's prediction, the deer take in the northern zone will decline from 28,600 deer in 2010 to 25,740 in 2011, with about 1,600 less bucks taken. Total deer take in the southern zone will rise from 198,500 in 2010 to 218,350 in 2011.
Deer harvest data is gathered from two main sources, harvest reports called in by successful hunters, and DEC staff's examination of harvested deer at check stations and meat processors.
Biologists are well aware that even though it is required, still only about 45 percent of successful hunters report their take, and this is taken into consideration in the final tally. Considering all variables, the DEC maintains its statewide harvest numbers are statistically accurate to within ±2 percent.
(Continued on Next Page)
Prev Next
Vote on this Story by clicking on the Icon