Ticonderoga — Will one of your New Year's resolutions be to get more exercise?
If so, the LaChute Road Runners Club of Ticonderoga can help.
The club is planning its 10th annual Resolution Run Jan. 1, 2011.
The event will include a five-kilometer (3.1 miles) run and a four-kilometer (2.5 miles) walk.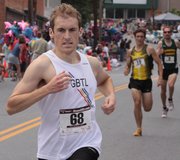 Both events will begin and end at the Community Building on Montcalm Street at 11 a.m.
The course follows Lake Champlain Avenue to Water Street to Lake George Avenue back to Montcalm Street.
Registration will be that day beginning at 10:15 a.m. at Bicentennial Park. Registration fee is $2 or two food items. All proceeds will be donated to the local food pantry.
Following the run there will be light refreshments and presentation of awards. Awards will be home-baked goods.
The event will be held regardless of weather conditions.
For information, contact Ellie Berube at 585-8974 or visit the club website at www.lachute.us
The race is expected to include All-America and national runner-up Lee Berube.
Berube, a Ti High graduate who is now a senior at SUNY-Geneseo, finished second in the NCAA Division III cross country national championship race in Oshkosk, Wis., Nov. 18.
Ben Sathre of St. Thomas College of Minnesota won the five-mile race in 23 minutes, 44.27 seconds. Berube was second in 23:49.6. It was a blistering pace; one of the fastest in the history of the championship race. Berube's time would have won the 2010 championship by nearly 40 seconds. His time was a personal best for the distance by nearly a minute.
Berube was named All America for his efforts. It's the second consecutive season he's been a cross country All America. He has also earned All America honors five times in track.
The runner-up finish at nationals capped a strong season for Berube. He won his third straight State University of New York Athletic Conference championship and his second straight Atlantic Region championship this fall.
(Continued on Next Page)
Prev Next
Vote on this Story by clicking on the Icon