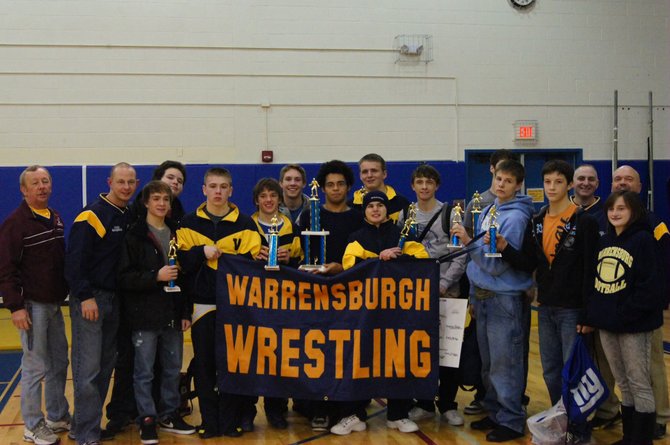 When Nelson walked onto the mat, South Glens Falls was ahead, and to secure the first-place honors in the tournament, the Burghers needed Nelson to win.
Nelson, a WCS Senior, accomplished the task for his team with a 7-5 decision.
"The first-place victory was on Nelson's shoulders, and he got it for us," Trapasso said.
Also capturing a first-place win for the Burghers was Beecher Baker, who pinned Zack Morris of South Glens Falls in the finals with only 50 seconds remaining in the match.
"Beecher looked very sharp," Trapasso said of the WCS Junior. "It was fantastic."
Winning second place in the tourney was Senior Jon Vaisey, who is a dominant force in the Adirondack League for his 106-pound weight class. Vaisey was pinned in 1:39 by Dominic Riccio of Galway after winning all his other matches.
Following in Vaisey's footsteps is Freshman Austin West, who's proven to be a promising talent with some critical wins already this season. Austin won second place after being pinned in 5 minutes 14 seconds by Brandon Diaz of LaSalle.
Sophomore Trevor Baker also demonstrated his talent by winning all matches in the tourney but his last. He placed second after being pinned in 3:52 by Gabe Laberge of Middlebury at 195 pounds.
Placing third was WCS Freshman Lane Oehler, who won a 9-5 decision at 132 pounds against Pat Mumford of Mill River. This was Oehler's second win in his two Varsity meets.
Jerico Converse continued his winning ways for the 2011-12 season, placing fourth at 145 pounds, along with Freshman Blake Vaisey at 220 pounds who also has been demonstrating his considerable ability.
Behind Warrensburg and South Glens Falls in the tournament was Granville in third place, followed by Galway, Middlebury, Mechanicville, Vergennes, Bellows Falls, LaSalle, Rutland, AuSable Valley, Mill River, Cambridge, Fort Ann, Otter Valley and Milton.
Trapasso said his team's victory was a matter of not only those who won championships or placed in the tourney, but those who contributed points in the qualifying matches.
"We had the right wrestlers in the right weight classes," he said. "Our kids have been working hard — they want to get better, so they listen and learn, and they're willing to do what we ask them to do."
Vote on this Story by clicking on the Icon