Ray Brook — The Adirondack Park Agency (APA) Board of Commissioners continued to hear about the various details regarding the Adirondack Club and Resort at APA Headquarters today, which is day two of the Agency's regular monthly meeting for December.
The normal monthly meeting agenda for Thursday and Friday is changed to focus on the Adirondack Club and Resort project in Tupper Lake. The meeting will be webcast live at the APA website. In addition, the public is invited to view the webcast live in Tupper Lake at The Wild Center.
See the story about the Thursday, Dec. 15 APA meeting.
This month the Agency continues its three consecutive monthly meeting cycle to deliberate project 2005-100, the Adirondack Club and Resort. This residential/resort project is proposed for lands in the Town of Tupper Lake, Franklin County. The Board began its review at the Nov. 17-18 meeting. The Board continues its deliberations at the Dec. 15-16 meeting. A decision is expected at the conclusion of the Jan. 19-20, 2012 meeting.
Members of the Executive Team -- including Greg Bendell, John Banta, Sarah Reynolds, Rick Weber and Ed Snizek -- are presenting draft findings and conditions from the adjudicatory hearings held this past spring.
Document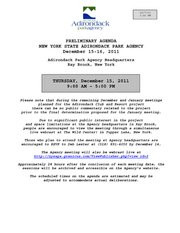 Friday morning topics
Here are the issues that will be presented to the Agency Board this morning:
● Erosion and Sediment Control/Stormwater Management (G. Bendell)
● Water Supply (G. Bendell)
● Sewage Pump Station/Community Wastewater Treatment Plant/Individual Wastewater Treatment Systems (G. Bendell)
● Wetlands/Wetland Mitigation (E. Snizek)
● Protection of Amphibians (E. Snizek)
● Invasive Species Control/Sanitizing Equipment (E. Snizek)
● Shoreline (E. Snizek)
● Wild, Scenic and Recreational Rivers Special Provisions (E. Snizek)
● Temporary Use of Cranberry Pond for Snowmaking (E. Snizek, G. Bendell)
● Use of the Existing Base Lodge (J. Banta)
Friday afternoon topics
Issue #10 Compliance (S. Reynolds, R. Weber)
(Continued on Next Page)
Prev Next
Vote on this Story by clicking on the Icon