Guardian angels will be on hand to help guide the child and parent through the project. Holiday snacks will be available for purchase from the concession stand. Should time and materials permit, adults are welcome to decorate a star as well.
Reservations are strongly suggested and can be made by calling Pendragon at 891-1854 or sent via e-mail:pdragon@northnet.org.
On Saturday, Dec. 17, at 7:30 p.m., Louise Dionne will perform a piano concert at Saranac Village at Will Rogers. This recital will feature Christmas favorites including duets with her student-partner, Sarique Moore and feature some works from Louise's new 2011 CD, "Floating on Lake Champlain."
There is a $5 suggested donation. Refreshments will be served. For more information, please contact Debbie Kanze at 891-7117.
Sunday, Dec. 18
Each year Pendragon does a production which is staged at the LPCA during the winter. Auditions for this year's production will be held at the Pendragon Theatre on Sunday, Dec. 18 at noon.
This year's production will be "Almost, Maine," by John Cariani and directed by Pendragon Company member Bonnie Brewer. Rehearsals will be almost exclusively in the evenings and on weekends. The performances will all be at LPCA on Feb. 17, 18, 24, 25, and a matinee on Feb. 26. There is a perusal copy of the play available at the Theatre. There are parts available for four to six performers, depending on doubling decisions, men and women 20s to 40s.
Call the theater 891-1854 for other questions or information.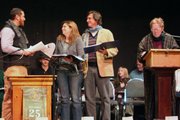 The Whallonsburg Grange Hall and the Depot Theater present a staged reading of the holiday classic, A Christmas Carol, by Charles Dickens on Sunday, Dec. 18, at 5:30 p.m.
Starring John Christopher George as Scrooge, this production features a cast of community actors and live music that bring the story to life. With narration by Shami McCormick and musical direction by Kenney Green. A holiday event for the whole family. Carols and cookies prior to the performance. Free admission. Bring toiletries and non-perishable food or cash donations to benefit the ACAP Food Shelf.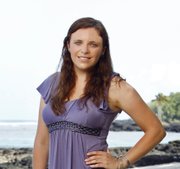 Sophie Clarke will compete on the season finale of the CBS Television series, "Survivor," which airs at 8 p.m. on WCAX-TV locally. The show may not start immediately at 8 p.m., due to the potential of the New England Patriots at Denver Broncos to go over its alloted time.
Vote on this Story by clicking on the Icon