This is the first in a new weekly series at thevalleynews.org, looking at events and activities coming up over the weekend, from plays and concerts to craft fairs and gatherings.
Friday, Dec. 16
The Horace Nye Home in Elizabethtown will be holding a craft fair/bake sale on Friday, Dec. 16, from 10 a.m. to 3 p.m. Anyone interested in renting space may contact Lisa Loveday at 873-3575 or by email lloveday@essex.co.us.ny. Cost will be $10 for a 6-foot space.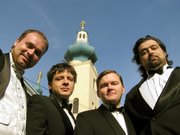 The Westport Federated Church will present a Traditional Russian Sacred and Folk Music evening with the St. Petersburg Men's Ensemble on Friday, Dec. 16, at 7 p.m. An offering will be received. For more information, contact 962-8293 or visit www.westptchurch.com.
Saturday, Dec. 17
There will be a Breakfast with Santa on Saturday, Dec. 17, at Father Mac Hall in Westport from 7 to 11 a.m. Cost is $7 for adults and $4 for kids, with proceeds benefiting the Westport Volunteer Fire Department.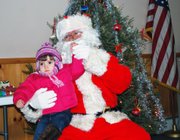 Saturday morning, Champlain Area Trails (CATS) will go to the Wildway Overlook Trail in Essex to remove low-hanging branches so that snowshoers and intrepid cross-country skiers don't get bonked on the head as they enjoy this winter's snow. They will work from 8:30 a.m. until about noon so please dress warmly, bring loppers and hand saws. All ages are welcome.
The Keeseville Free Library's 20th Annual Holiday Party will be held on Saturday, Dec. 17, at 1 p.m., with the arrival of Santa on a KVFD fire truck. Santa will be dancing and singing and entertaining the young. There will be time for letting Santa know what you would like for Christmas. Refreshments will be served.
Santa will be stopping by theLewis Fire House, 18 Fire House, Saturday, Dec. 17 from 3 to 5 p.m.
The event is for children age newborn to 10-years-old to receive a gift from Santa.
(Continued on Next Page)
Prev Next
Vote on this Story by clicking on the Icon