continued — Commissioners did not get into specifics about alternative designs for the project that were filed during the adjudicatory hearings. They did ask about how to approach the alternative designs in regard to their deliberations. The short answer is that the alternatives are conceptual, not detailed; therefore, they had not gone through the review process like the project that is currently on the table from the sponsors.
"You don't redesign the project at the table. The suggestions are on the record nonetheless," Banta said. "The Agency does look at alternatives. It just has a different process of getting there."
Thursday afternoon topics
APA staff on the Executive Team -- including Banta, Rick Weber, Ed Snizek and Sarah Reynolds -- explained a number of topics for commissioners based on the hearings:
● Overall Intensity Guidelines
● Residential Structure Locations, Footprints, and Heights/Non Residential Structure Locations, Footprints and Heights
● Building Color, Outdoor Lighting, Resort Signage
● Planting Plans
● Energy Use and Conservation
● Grading and Limits of Vegetative Clearing
● Organizational Arrangements
● Property Owners Association/Declaration of Protective Covenants
● Non-Homeowner Association Lots
● Great Camp Lots
● Visual/Open Space Protection
● Forest Management Plan
Document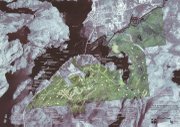 100-mile radius condition
During the Energy Use and Conservation discussion, commissioners and designees were overwhelmingly in support of getting rid of a condition that required labor and building materials for the Adirondack Club and Resort to come within a 100-mile radius. The goal is to reduce the carbon footprint of the project. While all were in favor of hiring local people, most Board members said the provision should be a discussion point rather than a condition. Making it a requirement placed the Agency in a position of enforcing the 100-mile radius, said Judy Drabicki, Department of Environmental Conservation designee and DEC Region 6 director.
"I think it's dangerous (to approve conditions) that you know from the get-go are unenforceable," Drabicki said, adding that this condition is merely a "feel-good provision."
Vote on this Story by clicking on the Icon