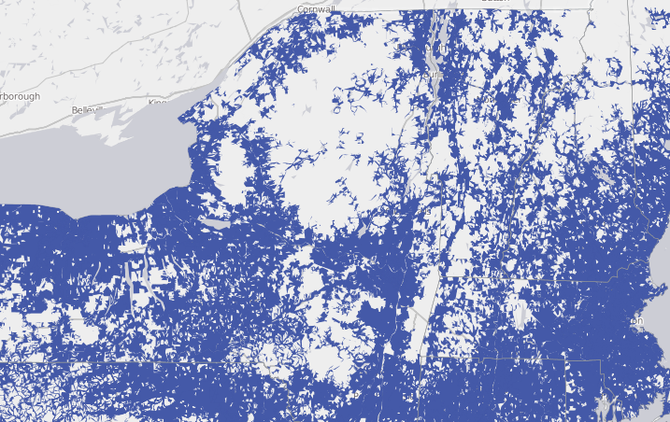 continued — The grant-funded installation will not only get broadband into Long Lake, but Dzwonczyk said they'll boast speeds well above the national average.
"It's more capacity than possibly the whole county can pump through," he said.
On another rural install, in St. Lawrence County, Slic boasted speed tests on the connection of 105 megabits-per-second. He quantified that as 20 times the national average.
"It's a bit of hyperbole," said Dzwonczyk.
Those speeds will be available to customers willing to pay a premium price, but the company will also offer more affordable connections with lower top speeds for those who don't need blisteringly fast internet.
Finally getting broadband into Hamilton County won't give a competitive advantage when the local Industrial Development Agency tries to attract jobs; it will simply level the playing field, said Melious.
"Talk to any economic developer in the country -- they will tell you that broadband access is baseline. Without it, you can't create jobs," said Melious. "It's like water, sewer and power access."
Second-home owners who visit in the fairer season are limited by the slow connectivity, said Farber. When the county gets its big influx of seasonal residents, the internet slows down as the traffic ramps up.
If those seasonal residents can't send an extra-large file online, or chime in on a video conference, they may have to head back to bigger cities with bigger internet capacities sooner. That means they're spending fewer dollars locally, said Farber.
Opening the tap on high-speed access removes a handicap the county's labored under in the new job market.
"There are people who would like to live where the schools are safe, recreation is readily available and the scenery is breath-taking," wrote Melious in an e-mail. "We expose hundreds of thousands of people to Hamilton County as a result of our tourism promotion. Now we can convert some of those visitors into local business-owners. With broadband, these people can be connected globally."
CORRECTION: Mark Dzwonczyk was attributed as president of Slic Networks. The attribution was changed Dec. 27 to CEO of Nicholville Telephone.
Vote on this Story by clicking on the Icon