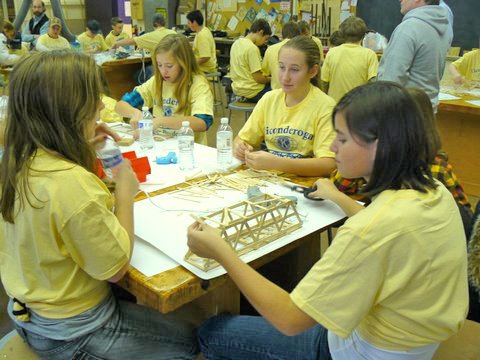 continued — The winning middle school popsicle stick bridge was designed and built by Team Taco represented by Skyler Torrey and Mike Lapeter, which carried 121 pounds before finally collapsing.

Second place went to the Awesome Engineers team of Colvin Chapman, Samual Shelmadine and Tim Ryan.

Makayla Holt, Amanda Hurlburt and Taylor Suddard of St. Mary's took the third place trophy.
Other middle school students involved in designing and constructing the bridges included Shelby Turner, Dusty Bright, Willa Shakeshaft, Logan Jordan, Karl teRiele, Collin Bresett, Dustin Hunsdon and Zack Parent. St. Mary's was also represented by Cassie Reale, Jared Pike and Courtney Wranowsky Jake Mildon and Kathleen O'Neil.
The high school winners of the most efficient bridge were the team of Will Lawrie and Meghan Schyrer. They also won the first place trophy for the most attractive bridge.
Cory King and Chris Burns came in second place in both categories.

Other high school competitors were Nate Lenhart, Jake O'Hara, Corey King, Chris Burns, Brandon Russell, Kelly Dunn, Allen Zhang, Kevin Densmore, Kody Whitford, Chris Bennett, Krystie McGuire, Emilee Namer, Megan Scuderi and Taylor Ward.
Vote on this Story by clicking on the Icon