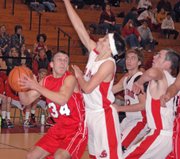 Plattsburgh — Champlain Valley Athletic Conference boys and girls basketball programs started their season at the Plattsburgh State Fieldhouse Dec. 9-10, part of the annual Coaches v. Cancer CVAC Challenge.
This was the first year that the event as a kick-off to the season, according to Seton Catholic boys head coach and challenge organizer Larry Converse.
"We wanted to go with games that were in division and make it an event to start the season with," Converse said. "In the past, we have had the event later in the season as teams are getting ready to come here for sectionals, but hopefully this is a good starting point to the season for these teams and we will get moe people in to help raise funds."
Funds raise through the event go to the CVPH Fitzpatrick Cancer Center in Plattsburgh. Money was raised through donations at the gate, T-shirt and collectible sales, a 50/50 raffle and a paper airplane toss at halftime of the Saturday games.
"In the five years previous, we have raised over $9,000 for the center," Converse said. "It is a very good cause, and we have some great sponsors. The fieldhouse has been very good to us over the years. Hopefully, the money can go toward good things."
In the Friday games, Alexis Facteau has 19 points, Meghan Strong added 12 points to go with 11 steals and seven assists and Cammey Keyser had 10 points as the AuSable Valley Lady Patriots beat Lake Placid, 50-30. Danielle Balestrini and Chloe Uebrick each scored eight points for the Blue Bombers.
Colby Sayah had 15 points for the Northern Adirondack Bobcats, who were unable to hold off the Moriah Vikings in a 52-36 defeat in the second game of the night.
In game three, Mary Mazella scored 16 points and Brianna Hackett added 11 as the Peru Lady Indians scored a 47-37 win over the Plattsburgh High Lady Hornets, who were led by 10 points from Marle Curle and Kianna Dragoon.
(Continued on Next Page)
Prev Next
Vote on this Story by clicking on the Icon