Ticonderoga — The shopping is done. The presents have been wrapped.
This holiday season the Tiny Tim Christmas Wish Program, which provides Christmas gifts to needy children in the area, will service 140 children from 52 families.
"It's not the most we've ever had, but it's right up there," Nancy Quesnel, Tiny Tim director, said of the number of children. "We normally have about 125 children we shop for."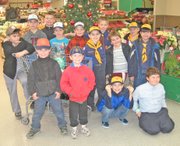 Tiny Tim gifts will be distributed Saturday, Dec. 17, 8 a.m. to noon at the Masonic Lodge on Montcalm Street in Ticonderoga. People with questions can call 585-7017 for information.
The Tiny Tim Christmas Wish Program serves needy children of the Ticonderoga Central School District, including Putnam and St. Mary's schools. Children ages 1 to 16 are eligible.
The confidential program decides who gets holiday help using the school's free and reduced lunch income guidelines. Parents must complete applications. That application includes questions about the children in the homes, such as clothing sizes and gender.
Quesnel stressed the program is entirely confidential. After applications are verified, names are removed and families are assigned numbers, she said. People who purchase gifts buy for a specific number, not knowing who the child is.
This year the Tiny Tim program met all its goals.
"It's just amazing," Quesnel said. "The number of people who help us, financially and otherwise, is heart warming."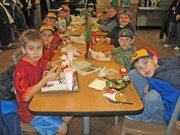 In fact, the Tiny Tim Christmas Wish Program even got an early present of its own Dec. 7. That's when Lowe's presented the charity with a $3,000 donation that will be used in 2012.
"That's about half our budget for the year," Quesnel said of the donation. "We really appreciate it."
Anthony Clemons of Lowe's said his company is pleased to help.
"We heard about the Tiny Tim program and wanted to help out," Clemons said. "I'm glad we can."
(Continued on Next Page)
Prev Next
Vote on this Story by clicking on the Icon