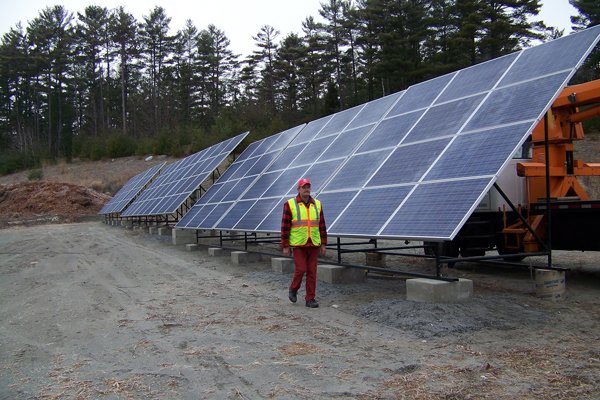 continued — Also, the private company takes on the risks of damage due to vandalism or electrical storms, as well as changing technology and variable energy markets.
Although a proposal was considered to sign up for a 20-year lease, both parties decided to settle on 10 years because technology could change, making the existing panels obsolete, Monroe said.
When the lease is up, the installation may be available for purchase to extend the savings, Monroe said, noting that the solar arrays are expected to last 20 years or more.
Monroe said that existing electric bills paid to National Grid are $12,000 per year for the health center, $22,000 per year for the municipal center, and almost $11,000 per year for the transfer station town garage and recycling center complex.
He said that savings overall could be $40,000 to $50,000 over the life of the contract.
"We'll be saving taxpayers money while giving back to the environment," he said.
Winslow Moore of Edge Consulting said that the solar panel arrays produce 25,000 watts, or 31,250 kilowatt-hours each per year. He declined to estimate total savings, noting that calculating the sum was complex because National Grid's prices change according to peak demand periods.
Monroe said he was first introduced to the idea in a presentation before the Adirondack local Government Review Board by one of Edge's engineers.
The solar arrays are partially hidden in each site they are installed. The ones at the Municipal Center are just south of the complex towards the building's rear, and the one by the health center is adjacent to the cemetery. At the town transfer station, two arrays are in the rear by the covered landfill, and provide electricity for all the public works buildings at the complex.
At Dynamite Hill, the array is behind and to the left of the Chamber of Commerce building. It's main purpose is to supply the electricity for the town water system pumping station. It also powers the warming hut building.
Monroe said that he and town board members were interested in boosting the town government's self-sustainability while reducing costs.
The town is now also looking to install a new furnace for the town hall that burns wood pellets or chips rather than heating fuel.
"One of the goals discussed among leaders in the Adirondacks is to become energy efficient and not rely on outside sources," he said. "Solar power wind energy and wood pellets or biomass is the way of the future — and it's the right thing to do."
What is the Solar Energy Potential where you live?
Vote on this Story by clicking on the Icon