Ticonderoga — Efforts to move the Ticonderoga Police Department have hit a snag.
After a residents committee and the town board believed they had found a way to move the police headquarters to the former Rite Aid building on Montcalm Street, a state law was discovered that has placed the plan on hold.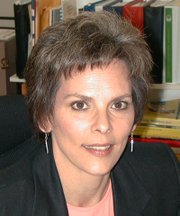 Supervisor Deb Malaney explained the old Rite Aid building is larger than what the town of Ticonderoga needs for its police department. The town had planned to rent the building and sub-lease some of the extra space to help defray the rental costs.
"We can't do it," Malaney said. "There's a state law that prevents us from renting more space than we need. We can't sub-lease."
A citizens committee — that includes trustee Steve Whitford, Police Chief Mark Johns, Ross Kelley, Rolly Allen, Margaret Lauman, Dave Woods and Sharon Reynolds — had recommended leasing the former Rite Aid building and renovating it.
The committee studied square footage and availability of buildings in the community, parking, location, flexibility to expand if the need arises and costs.
Ticonderoga officials have long discussed moving the police downtown but accelerated the discussion in December 2009 when structural issues arose at the police headquarters.
The nearly 70-year-old concrete block structure on Burgoyne Avenue developed a large crack from the foundation up the center of the back wall raising questions about the building's future.
In January 2010, local officials began talks with the owner of the former Rite Aid building on Montcalm Street in hopes of relocating the police department.
The former Rite Aid building has an assessed value of $403,000, which makes it too expensive for the town to purchase. The building has 7,800 square feet.
According to the committee report, Comm Net Lease Realty, the Florida-based company that owns the building, will rent the building to the town for $18,500 a year. The panel estimated utilities would cost $15,000 a year, insurance $3,000 and renovation $10,000. The renovation would be financed with a no-interest loan. The committee estimated the total cost of housing the police in the former Rite Aid would be $46,500 in 2013.
(Continued on Next Page)
Prev Next
Vote on this Story by clicking on the Icon