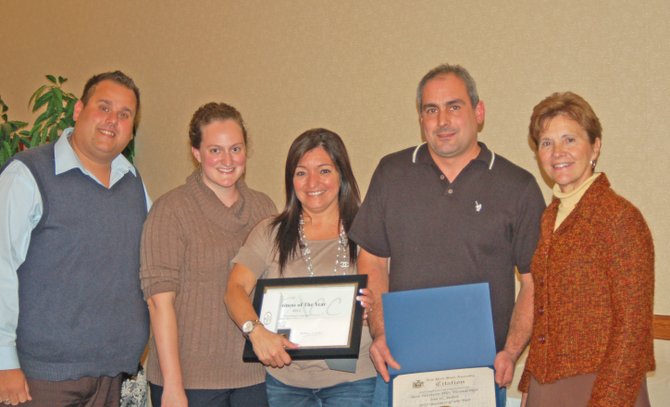 continued — Courtright went on to offer quotes on volunteerism and leadership. He offered:
"I don't know what your destiny will be, but one thing I do know: the only ones among you who will be really happy are those who have sought and found how to serve," said Dr. Albert Schweitzer, Nobel Peace Prize Winner.
"Volunteers do not necessarily have the time; they just have the heart," said Elizabeth Andrew.
"I am only one, but still I am one. I cannot do everything, but still I can do something; and because I cannot do everything, I will not refuse to do the something that I can do," said Edmund Evertt Hale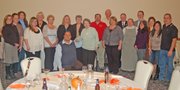 Assemblywoman Teresa Sayward was the chamber's special guest for the event. Sayward thanked the area's volunteers for their dedication and continued efforts. She also highlighted the efforts and dedication of the Lake Champlain Bridge Coalition/Community during the last two years.
Pamela Nolan, chamber board president from the Ticonderoga Federal Credit Union, and Susan Rathbun, chamber board first vice president from Rathbun Jewelers, assisted Courtright in presenting the awards.
TACC Appreciation Awards went to Tim and Carol Whitford, who have chaired the chamber's car show the past 10 years; the Champlain Valley Classic Cruisers; the Lake Champlain Bridge Community; Helen Gibbs, retired director of the Tiny Tim Christmas Wish Program; David Carr, Elks National President; and Theresa Abare, volunteer appreciation dinner chairwoman.
Sayward presented each award recipient a citation from the New York State Assembly.
The Ticonderoga Area Chamber of Commerce staff, board, committee chairs and ambassadors were also recognized.
Businesses and organizations contributing to the annual dinner include the Best Western/Burgoyne Grill, Burleigh Luncheonette, Century 21 of The Adirondacks, Christopher Chevrolet, Community Bank, NA, Eddie's Restaurant, Emerald's Restaurant, Fort Ticonderoga/Log House Restaurant, Frenchman's Restaurant, Gino's Ti Pi Pizzeria & Restaurant, Glens Falls National Bank, Happy Star Chinese Restaurant, Hot Biscuit Diner, House of Pizza, Inter Lakes Health, Knights of Columbus, McDonald's of Ticonderoga, Montcalm Manor, Rathbun Jewelers, Silver Bay YMCA, Subway of Ticonderoga, Sugar Hill Manor Bed & Breakfast, The Burleigh House Restaurant, The Lake Champlain Inn B&B, The Millers Antiques, The Wagon Wheel Restaurant, Ticonderoga Federal Credit Union, Two Brothers Meat Market and Wal-Mart of Ticonderoga.
Vote on this Story by clicking on the Icon