Girls basketball
Crown Point 55, Johnsburg 21
Crown Point opened the Mountain and Valley Athletic Conference girls basketball season with a 55-21 victory over Johnsburg Dec. 5.
Marissa Titus led the Panthers with 21 points, 13 rebounds and five assists. Amanda Wolf added 16 points, 19 rebounds and four blocks for the victors.
After a slow start, Crown Point closed the first half with a 20-7 spurt to take command.The Panthers then iced the game by starting the third period with a 15-6 run.
Mountainside 35, Latham 14
Mountainside Christian Academy got to a good start, winning its first girls basketball game of the season. The Vikings beat Latham Christian Academy, 35-14.
Mountainside pulled ahead in the first quarter and led all the way.
Elora Sabatini scored a game high points and Sarah Cruickshank added four points for the winners.  Melissa Paris grabbed nine rebounds for MCA while Rachel Bostridge had eight.
Boys basketball
Schroon 48, Lake Placid 36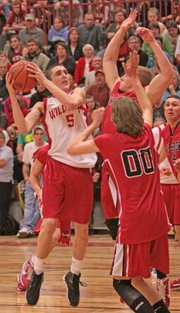 Schroon Lake jumped to big lead and beat Lake Placid, 48-36, in Mountain and Valley Athletic Conference boys basketball action Dec. 7.
The Wildcats raced to a 15-5 lead and held a 14-point halftime advantage. Lake Placid rallied in the final quarter, getting within three points, but Schroon pulled away for the win.
Jesse Shaughnessy scored 25 points and Ian Williams 17 for the winners.
Mountainside 68, Latham 47
Mountainside Christian Academy topped Latham Christian Academy, 68-47, to open its boys basketball season.
The Vikings led all the way, pulling away late fofor the win.
John Andruk scored 25 points and grabbed 14 rebounds for the locals. Duncan Sabatini scored 24 and had nine rebounds.
Bowling
Ticonderoga sweeps
Ticonderoga swept past Peru in Champlain Valley Athletic Conference bowling Dec. 7.
The Sentinels won the girls match, 4-1, as Jordan McKee tossed a 181 game and 525 series.
Megan Schryer added a 468 series and Mersadie Olcott a 186 game and 461 triple fr the victors.
Ticonderoga won the boys match, 7-3.
James Gijanto rolled a 212 game and 543 series, while Cole Frasier chipped in with a 501 triple and Billy Kohrman a 206 game for the Sentinels. 
Vote on this Story by clicking on the Icon