continued — The Lake Placid Blue Bombers dropped their first MVAC contest of the season against the Schroon Lake Wildcats, 48-36.
Logan Stephenson led the Bombers with 14 points, with Jacob Daniels scoring 10 points, Lucas McLean five and Evan Bickford three. J.P. Morrison and Cody Porter each scored two points.
In wrestling, the Peru Indians forced seven pins in beating the Beekmantown Eagles, 60-21.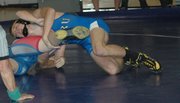 Ethan Feazelle, Brandon Goddeau, Kyler Agoney, Max Marte, Nick Forget, Noah Phillips and Troy Seymour each scored pins against the Eagles, while Jordan Bushey scored a 5-3 decision and Josh Wright scored a 7-5 decision.
For the Eagles, Brandon Defayette and Hayden Head each recorded pins, while Sylan Peryea scored a 2-0 decision win.
The CVAC bowling season started Dec. 7 in dramatic fashion as Saranac's Taylor Chapple rolled games of 218 and 268 before putting up 12 consecutive X's on the scorecard in posting a perfect game as the Chiefs boys defeated the Plattsburgh High Hornets.
Josh Sheffer's 675 series was tops for the Hornets, who scored a win in the girls match as Allison Beebie rolled a 480 series. Jade Laker had a 422 series for the Chiefs.
The Northeastern Clinton boys and girls bowling teams scored wins of 7-3 and 4-0 over the Willsboro Warriors, with Joey Robert rolling a 576 series for the Cougar boys and Janelle Menard hit for a 429 series.
The Warriors were led by Tyler Bridge's 605 series and Alyson Arnold's 481.
The Peru Indians dropped a 7-3 boys match and 3-1 girls contest against the Ticonderoga Sentinels, with Jonathan Bowman rolling a 644 series for the boys and Brittany Bushey rolling a 460 for the girls.
Vote on this Story by clicking on the Icon