Elizabethtown — The Willsboro Warriors varsity boys basketball team scored a 44-31 victory against the host Elizabethtown-Lewis Lions in the MVAC league opener for both schools Dec. 7.
The game was played at a physical level, complete with numerous jump balls, three technical fouls and highly contested loose balls.
Photo Gallery
Willsboro at ELCS boys basketball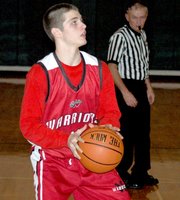 Pictures from the Dec. 7 MVAC boys basketball game between the Willsboro Warriors and the Elizabethtown-Lewis Lions.
The Warriors jumped out to a 10-5 lead, not looking back and capitalizing on free throw chances while the Lions were unable to convert, hitting only 10 in 28 chances.
Brandon Bertrand led the Warriors with 15 points and 12 rebounds, leaving the game in the fourth quarter with a nose injury. Nick Ball added nine points, four steals and eight rebounds, while Clay Sherman had six points, two assists and three steals, Brandon Porter scored five points to go with a pair of assists, Clayton Cross had three points and five rebounds, Dakota Sayward had three points and four rebounds, while Cody Sayward scored three points to go with six rebounds.
For the Lions, Hunter Mowery scored 11 points and added six rebounds, five assists and eight steals. Andrew Mitchell had seven points and 10 rebounds while Charlie Huttig had seven points and four steals.
Zack Pelletier scored six points, but led all players by grabbing 20 rebounds, 14 on the offensive end. Tim LaRock added eight rebounds and Tyler White pulled down five. Overall, the Lions out-rebounded the Warriors 52-39, but were unable to convert on second and third chances.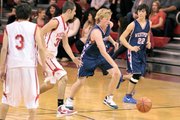 In Chazy, Brandon Laurin scored 13 points and Craig Botten scored 11 as the Chazy Eagles scored a 49-29 win over the Westport Eagles.
Nathan Guay added eight points, while Cody Toohill scored seven and Alec Lapierre scored six. Matt Stalker and Tanner Chauvin each scored two points.
Ryan Davis led Westport with 12 points, as Dominic Banish scored eight, Ethan Markwica four, Gabe Schrauff three and Alex Steele two.
(Continued on Next Page)
Prev Next
Vote on this Story by clicking on the Icon