Ticonderoga — More than 2,000 people came aboard the Lake George Association's floating classroom to learn about lake protection and ecology this year.
"It was one of our busiest and most successful seasons ever," said Emily DeBolt, LGA director of education.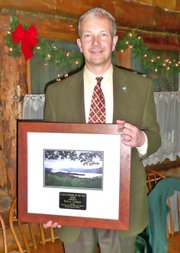 In addition to school groups in the spring and fall, the floating classroom hosted homeowner associations, visitors to area resorts, the staff and board of the Lake George Park Commission, scouting and camping groups, and the general public.
"Due to popular demand in our 2010 season, we doubled the capacity of our public programs in 2011, offering two programs a day on Wednesdays throughout July and August," said Walt Lender of Ticonderoga, LGA executive director. "We are also strongly encouraging schools, homeowners, resorts and other groups around the lake to book their 2012 programs now if at all possible, as our openings have become quite limited.
"In addition, just in time for holiday gift giving, individuals can reserve a special floating classroom program for their friends, family, neighbors or business associates for next year. For more information we encourage you to contact us," said Lender.
On the floating classroom, people investigate the Lake George ecosystem and engage in the hands-on science behind keeping the lake's water clean and healthy. Participants catch and identify tiny animals called zooplankton that live in the lake and they measure the water's quality and clarity. They use the actual tools of the water ecology trade: Secchi disks, plankton nets, field microscopes and Van Dorn bottles. They measure water temperature, pH and dissolved oxygen; all are important indicators of lake quality. In addition, participants gain an understanding of how Lake George is different from other lakes, and learn about the lake's geographical history, and learn about threats to the lake from invasive species and pollution.
"The goal is to instill in our guests a sense of life-long stewardship for the lake," said Kristen Rohne, the LGA's watershed educator. "It's an experience we hope people will never forget. The program helps people see how important it is to protect Lake George."
The Lake George Association is a member-supported non-profit organization. Founded in 1885, the Lake George Association is the nation's oldest lake protection organization.
Vote on this Story by clicking on the Icon