North Creek — Though approaching the final stages of approval for a new Chestertown site for Creative Stage Lighting, owner George Studnicky III said the cost of building on the site needs more consideration.
"It's a challenging site, so it's going to be expensive," Studnicky said.
The property has a lot of elevation differences, so intensive landscaping will need to happen before they can put up a new building. Studnicky said they'd do their best to make it an attractive home for their business. They're even thinking about adding a waterfall.
"If we do it, it will look gorgeous," he said.
The company has applied with the Adirondack Park Agency (APA) for construction permits, and Studnicky doesn't think they should have much of a problem. Plans now call for a facility that's low visibility from the road.
They've completed all of their hearings with the town of Chester and received final approval for their proposal at the Nov. 21 planning board meeting.
Site plan
The new building site is 2.2 miles north of Creative Stage's current home in North Creek. Studnicky owns a large parcel of land across the street from the Bokus sand and gravel pit, just past Byrne Road.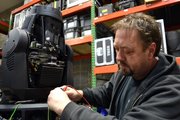 Preliminary plans call for a 73,000-square-foot building on the heavily wooded lot. This would more than double the current building's 30,000-square-foot spread. If it were a perfect square, it would run nearly as long as a football field on each side.
The building would have a 450-foot setback, and the many trees should keep the building hidden from the road and neighboring homes.
Drainage will be funneled into a pond and eventually to a wetland on the property. It should be adequate for 100-year events like those this spring and summer.
Building construction should take about 10 months and would begin with a 9,000-square-foot area for administration.
(Continued on Next Page)
Prev Next
Vote on this Story by clicking on the Icon