continued — Shane McNierney and Dillon Savage also tallied assists, along with Reid, who tallied a three-point night. Jeffrey Smith stopped 18 shots in net.
For the Chiefs, Alex Sarazen scored in the third period on assists by Joey Bridgeman and Jeremy Barber, while Zach Lareau made 23 saves.
On Monday, Dec. 5, the Lady Blue Bombers suffered their first loss of the season, a 1-0 setback against Potsdam.
Tanner Stanton made 37 saves in net for the Blue Bombers, as the eight grader has made 45 saves and allowed only two goals in the early season.
Photo Gallery
Lake Placid v. Oswego girls hockey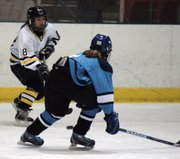 Pictures from the Dec. 1 game between the Lake Placid Blue Bombers and Oswego.
Also on Dec. 5, the AuSable Valley Patriots opened their Hoops for Hope tournament with a 72-25 win over the Willsboro Warriors, as Brody Douglass scored 26 points for the Patriots (2-1).
Mike Hart added 13 points, while Nick Rhino scored eight points, Brandon brooks scored seven points, Austin Depo and Nate Casey each scored six points, Shane Douglas scored four points and Connor Manning added two points.
Brandon Bertrand had 10 points for the Warriors (0-1), while Clay Sherman added seven points, Clayton Cross and Brandon Porter scored three points and Dakota Sayward scored two.
The Seton Catholic Knights also scored a season-opening win with a 70-30 score against the Chazy Eagles.
Carson Hynes scored 19 points to pace the Knights, while Eddie LaRow scored 13 points, Carlos Alvarez 12, and Adam Tedford eight.
Haden Guay had 11 points for the Eagles, while Matt Stalker scored eight, Jacob Kennedy five, Brandon Laurin four and Cody Toohill scored two.
The Tupper Lake Lumberjacks picked up their first win of the season, beating Clifton Fine 82-33.
Morgan Stevens led the Lumberjacks (1-4, 1-0) with 18 points, while Colton Clark added 14, Tim Larkin scored 12, Garrett Planty 12, Brock Tarbox 10, Jordan Garrow six, Mitch Keniston five, Damon Cole three and Austin Dukette two.
In girls hoops, The Beekmantown Lady Eagles dropped their opener, 51-38, against Section X's Massena.
Shannon Ryan had 19 points for the Eagles, while Katrine Fogelstroem added 11.
Vote on this Story by clicking on the Icon