Westport — The Westport Lady Eagles scored their third straight win in the opening weeks of the 2011-12 season, using a 27-8 run over the middle two quarter to score a 39-27 win over their namesakes from Chazy.
Photo Gallery
Chazy at Westport girls basketball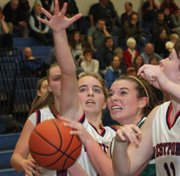 Pictures from the Dec. 6 MVAC girls basketball opener between the Chazy and Westport Lady Eagles.
Willa McKinley continued her solid offensive early season with 25 points for the Eagles (3-0, 1-0), while Brendee Russell scored four points. Delany Sears, Allison Sherman, Mallory Sudduth, Emily French and Karin Dorsey each scored two points.
For Chazy (0-1, 0-1), Olivia Seymour started the season with a 12-point performance, while Megan Reynolds added six points. Katie Thibault and Andrea Mehefsky each scored two.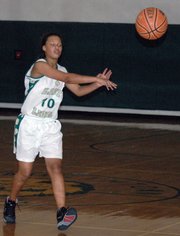 The Elizabethtown-Lewis Lady Lions, coming off their first loss of the season to Westport, rebounded with a 46-38 win over the Willsboro Lady Warriors.
The game was even throughout, except for the second quarter, when the Lions outscored the Warriors 14-7.
Lily Whalen scored 22 points to pace the Lions (4-1, 1-0), while Shonna Brooks scored 12 points, Savanah Graves and Kearsten Ashline scored four points, and Kylee Cassavaugh scored two points.
Kyli Swires scored 11 points for the Warriors (1-1, 0-1), with Hannah Bruno adding nine points, Renee Marcotte eight, Amanda Mahoney six, Serene Holland two and Renee Provost two.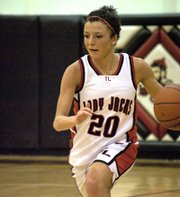 The Tupper Lake Lady Lumberjacks suffered their first lost of the season in its Northern Athletic Conference opener against Clifton Fine by the score of 63-34.
Carley Aldridge led the team with 11 points, while Sam Sanford scored 10 points and Paige Duckett scored five points. Katie Stuart and Kelsie St. Louis each scored four points.
In hockey, the Lake Placid Blue Bombers won their third game of the season with a 4-1 win over Saranac.
Dustin Jacques became the first local player to reach double digit points, assisting on all four of the Blue Bombers goals scored by Eddie Kane (2) and R.J. Reid (2), giving him a total of nine assists to go with one lamp-lighter.
(Continued on Next Page)
Prev Next
Vote on this Story by clicking on the Icon