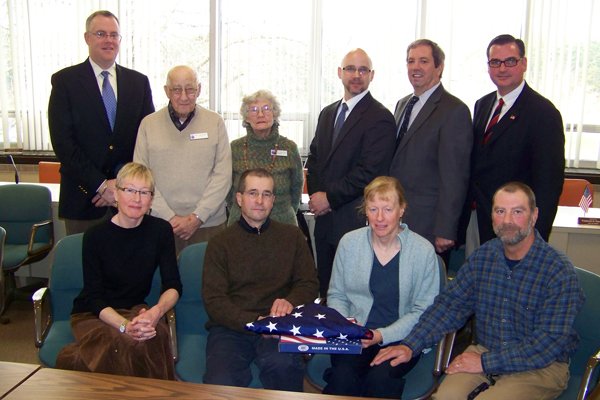 continued — Chester Supervisor Fred Monroe said he and Vetter were friends.
"Fred Vetter was a fixture in the town of Chester, and he accomplished all kinds of good things for local citizens," Monroe said.
Daniel MacEntee, representing state Sen. Betty Little, presented the Vetter family with the state Senate Liberty Medal honoring Fred Vetter's service. The award was on behalf of the New York Division of Military and Naval Affairs.
"This is the state Senate's highest honor," MacEntee said. "He was an outstanding veteran that meant a lot to his community."
County Supervisor-Elect Mark Wescott, an aide to U.S. Rep. Chris Gibson, presented the Vetter family with a flag that had been flown over the U.S. Capitol. That flag is to be flown for 30 days over the Warren County Municipal Center, then returned to the Vetter family for posterity.
Vetter's daughter, Jackie Vetter-Avignon, talked of how right after her father had graduated from Chestertown High school, he left his hometown to train at Camp Hale, high in the Colorado Rocky Mountains.
There, he prepared for alpine winter warfare. Among the training exercises, were when soldiers stayed out in the wilds, enduring bitter cold, for up to four weeks in canvas tents.
It was Fred Vetter's experiences in the Rockies, she said, that prompted his love of the outdoors and interest in skiing.
Vetter-Avignon brought to the ceremony photos and memorabilia of bygone days, and they sparked considerable discussion and reminiscing that lasted about an hour at a reception that followed.
Fellow members of the 10th Mountain Division, including Phil Santasiero of Johnsburg, attended the event, as did friends and family members.
Jackie's husband, Nick Avignon, noted that he passed on his love of skiing to Jackie, who also was a ski patrol member, Avignon said.
"No one was more of an Adirondacker than Fred was," he said.
Vetter's love of the high peaks was passed on to yet another generation, as the Avignon's son Christian, Fred Vetter's grandson, now lives and works a few miles from that former military outpost.
"Fred Vetter won't be forgotten," Avignon said. "We remember his service to his nation and his family — we miss him."
Vote on this Story by clicking on the Icon