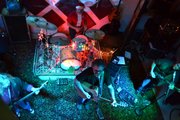 Bakers Mills — Following a night of carousing at J&J's tavern, California Jane turns on her date, knocking him over the head with a tire iron and stealing his truck.
Broke-down on the road to Baker's Mills, Jane showed some leg to catch a ride to J&J's for a music video shoot with Steven L. Smith and Metamorphose Jones.
The band's eighth video wasn't inspired by a personal event in Steven Smith's life, but he thinks the story of deceit will resonate with viewers.
They've performed their music in Nashville, all over the East Coast and even for a radio tour in Ireland after his albums charted internationally.
"But J&J's is still my favorite place to play music," said Smith.
The band tries to be genuine and honest, he said. That openness helps them connect with their audience, a special feeling for Smith. That's why they enjoy performing at J&J's so much. The audience there is receptive to their music, and the band appreciates that connection.
He bills his band's music as original Adirondack jam music, and said their style is directly related to the forever wild landscape.
"It's where we're from. It's the culture we live in," he said.
The most distant member of his band is the drummer, who lives in Hoosick Falls but is looking to move inside the Blue Line.
Smith grew up in Brant Lake, and he and his wife tried settling in Saratoga. After a few years, though, it was traffic jams and cramped spaces. He wanted to get back to the freedom of the mountains and raise his children in an environment that encouraged free spirits.
There's a deep connection to the landscape that comes with the freedom of living in such a wilderness-dominated place, Smith said.
"We can walk out our front door and hike for 20 miles without ever seeing another human being," Smith said. "That's a lot of freedom."
(Continued on Next Page)
Prev Next
Vote on this Story by clicking on the Icon