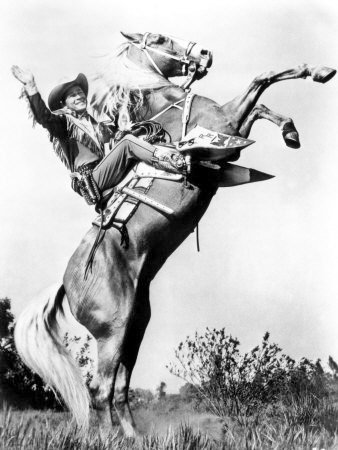 continued — Rogers and Evans were known as philanthropists. In keeping with their legacy, a portion of the book proceeds will benefit The Happy Trails Children's Foundation, the non-profit group home for neglected and abused children that Rogers and Evans founded in the southern California.
"Roy and Dale's greatest accomplishment was never their celebrity," Spencer wrote. "As the collective voices of this book so poignantly, sometimes humorously, sometimes rawly, reveal, it was their uncommon and generous humanity that made them heroes."
Dudley is pleased money from the book's sale will aid a charity.
"I think that's very important," Dudley said. "It's what I remember most about Roy Rogers. He was always the good guy."
Spencer stressed the book is not a biography.
"It is a celebration of two American heroes who had extraordinary influence in the lives of their fans," the author said. "And there's no one better to tell those stories than the fans themselves, including Crown Point's own Ms. Dudley."
Rogers, a singer and cowboy actor, one of the most heavily marketed and merchandised stars of his era. He, his wife Evans and Trigger were featured in more than 100 movies and "The Roy Rogers Show." The show ran on radio for nine years before moving to television from 1951 through 1957. Rogers became known as King of the Cowboys" and Evans was "Queen of the West."
Trigger became the most famous horse in film entertainment, even having his own Dell comic book recounting his exploits.
Vote on this Story by clicking on the Icon