Once discovered, the matter was completely handed over the NYSP for further investigation.
At the press conference, Russ Beede's daughter, Amanda, spoke with reporters, telling them that she was hoping for the best but had thought about the fact that her father may not return home alive.
"I want my dad," Amanda Beede said. "I'm not ready for him to go yet. I hope that they find him upright.
"If they don't find him alive, then he's where he wanted to be and where he wanted to go, in the woods, hopefully peacefully," she added.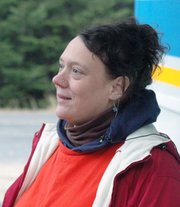 Amanda said that her father was "no stranger to the woods" and that he favored hunting in South Meadows area.
Amanda and her mother, Linda, who works as a dispatcher at the New York State Police Troop B headquarters in Ray Brook, were involved in the search.
"We are making sure that the family members are teamed with a trained search volunteer," Dubay said.
Russ Beede was last seen on Saturday morning, Nov. 26. It was believed that he was preparing to go hunting on state land off the Adirondack Loj Road.
Beede's vehicle was located near the gate into the Adirondack Mountain Club's Adirondak Loj property at the southern end of the road.
DEC forest rangers oversaw the ground search of the area since Monday. They were joined by NYS SORT team members, volunteers from Search and Rescue of the Northern Adirondacks (SARNAK), Central Adirondacks Search and Rescue (CASAR), Lower Adirondacks Search and Rescue (LASAR), Team 5-1 Search and Rescue, the Lake Placid Volunteer Fire Department, and the Wilmington Volunteer Fire Department.
K9 Units from the DEC Environmental Conservation Police and State Police, and search dogs from Champlain Valley Search and Rescue, were also part of the search effort, along with a helicopter from the State Police Aviation Unit.
Vote on this Story by clicking on the Icon