continued — In the 138-lbs. match, Matt Carter clinched the victory for the Bobcats with a second period pin, giving the team a 37-30 lead. Mike Phillips won the final match with a decision at 145.
Lady Eagles win tourney
The Westport Lady Eagles used an 18-12 fourth quarter and strong play late from all-state star Willa McKinley to beat the Elizabethtown-Lewis Lady Lions 48-44 in the championship game of the Alzheimer's Awareness Tournament at ELCS.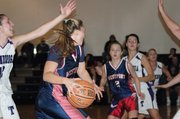 McKinley was 8-for-9 from the free throw line and scored 17 of her 22 points in the second half to help lead the Eagles to their second win of the season and drop the Lions to 3-1. McKinley also finished with four steals and six rebounds.
Allison Sherman added 16 points for the Eagles, while Karin Dorsey combined three points with six rebounds, Karlee McGee scores three points with two boards, Brendee Russell scored two points with three assists and six steals and Mallory Sudduth scored two points. Emily French added a rebound.
For the Lions, newcomer Savanah Graves was the team's third leading scorer in the first four games of the season, combining 11 points with six rebounds and four steals.
Lily Whalen added 10 points with six rebounds and a pair of assists, steals and blocks. Kearsten Ashline scored nine points and grabbed six rebounds with two assists, while Shonna Brooks scored eight points, also with six rebounds and two assists. Jasmine Barnes added six points.
Kylee Cassavaugh contributed with five assists and three steals, while Jen McGinn recorded five rebounds and three steals.
In Saranac Lake, the Tupper Lake Lady Lumberjacks got 18 points from Katie Stuart as they scored a 40-33 win.
Carley Aldridge and Kelsie St. Louis each scored nine points in the win, while Sam Sanford and Kristin Bickford each scored two points.
For the Lady Red Storm, Regan Kieffer scored 12 points, while Nicole Viscardo scored eight points, Jazzmyn Tuthill scored five points and Megan Moody scored four points. Megan Kilroy and Remy Orticelle each scored two points in the loss.
Vote on this Story by clicking on the Icon