Peru — While the Peru Indians opened the 2011-12 wrestling season with a 71-6 victory over the AuSable Valley Patriots Nov. 30, both teams came away from the event with a positive outlook.
The Patriots scored wins in two of the six contested matches, with Matt Lamere wrestling at 160 scoring a 5-2 victory and Kodie Simpson at 170 winning 4-0.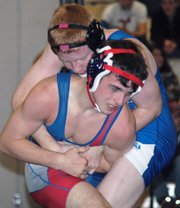 The Indians scored wins in the other four, with Josh Wright scoring a 15-0 tech fall at 152, Luke McKee scoring an opening minute pin at 220, Derrick Cumber scoring a first round pin at 285 and Max Marte getting a first round pin.
Eight matches were awarded to the Indians by forfeit, and the 195-lbs. division was not contested due to both competitors failing to make weight.
The Northern Adirondack Bobcats kept pace with the Indians in the early season, as they scored a 37-34 win over the Saranac Chiefs in their season opener.
The Bobcats opened the match with four straight victories, as Jackson Sunderland scored a 10-4 victory at 152, Justin Kellett won by pin at 160, Matt Lashway scored a 9-2 decision and Garrett Giroux won by pin, giving the Bobcats a 18-0 lead.
The Chiefs rallied to tie the match with three straight pins by Ben Perry at 195, Paul Herrera at 220 and Josh Ryan at 285.
The Bobcats responded in the lower weight classes, as Austin Trombley scored a 10-0 major decision at 99 and Rusty Pombrio scored an 8-3 decision at 106. A following forfeit at 113 gave the Bobcats a 31-18 lead.
The Chiefs won the next three matches but were only able to get one six-point pin by Trevor Goddeau at 126 while Codie Gillette scored a 7-0 decision at 120 and Austin LaTulip was able to get an escape for a 1-0 win at 132. The wins cut the lead to one point at 31-30.
(Continued on Next Page)
Prev Next
Vote on this Story by clicking on the Icon