Elizabethtown — To have one person from the North Country make it to a national stage is a grand accomplishment.
In the world of high school soccer, however, two standouts have been announced as semifinalists for a national soccer award, and both are looking for the communities help.
AuSable Valley senior midfielder Megan Colby and Elizabethtown-Lewis senior goalie Brock Marvin are both semifinalists for the Inspireum Soccer Awards, which are awarded annually to soccer players who, according to the Inspireum website, "inspire teammates, classmates, families and communities."
Both players were nominated for the awards, with Colby being nominated by her Plattsburgh Football Club coach Karen Waterbury, who is also the head coach of the Plattsburgh State women's soccer team. Marvin's nomination letter was written by his brother, Connor.
Megan Colby
Colby, who played midfield for the Patriots in 2011, has been playing soccer even before she could walk, according to the nomination letter written by Waterbury.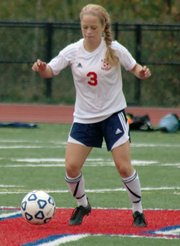 At age two, Colby was diagnosed with Cystic Fibrosis, an inherited chronic disease that affects the lungs and digestive system of about 30,000 children and adults in the United States (70,000 worldwide), according to the Cystic Fibrosis Foundation.
"I was very surprised," Colby said about the nomination. "I was pretty excited about it. There are a lot of people pulling for me and helping me."
Colby said that her nomination was the idea of Waterbury and her Patriot teammate, Amanda Hamilton.
"I can't even explain how I feel about Megan," Hamilton said. "She's incredible."
Colby has to take therapy for her condition every morning and evening, and takes medications and treatments throughout the day. She also makes trips to Burlington each month for what have become, for her, routine treatments.
"I've learned to adjust to it," Colby said. "I just have more things that take up my time than the average teen, but I don't mind it."
(Continued on Next Page)
Prev Next
Vote on this Story by clicking on the Icon