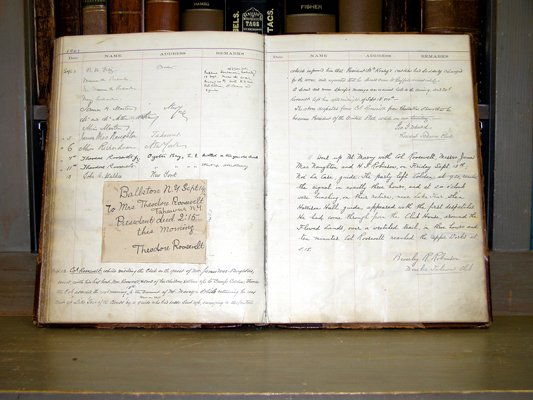 continued — That's when the night ride began on Sept. 13. Three drivers—Hunter, Kellogg and Cronin—used three separate teams of horses to travel 35 miles by buckboard. It was almost dawn by the time they arrived at North Creek. McKinley had died at about 2:15 a.m., before Roosevelt arrived at the Aiden Lair Lodge, his last stop prior to North Creek.
At the North Creek depot, Roosevelt was told of McKinley's death. The new president was sworn into office at Buffalo. On the way, in Ballston, Roosevelt wired a telegram to his wife: "Ballston, N.Y., Sept. 14/01, To Mrs. Theodore Roosevelt, Tahawus, N.Y., President died 2:15 this morning, Theodore Roosevelt." The telegram is pasted onto a page in the Tahawus Club guest register, which is now part of the Adirondack Museum's collection.
This story first appeared in "New York State's Mountain Heritage: Adirondack Attic, Volume 2," by Andy Flynn.
Vote on this Story by clicking on the Icon