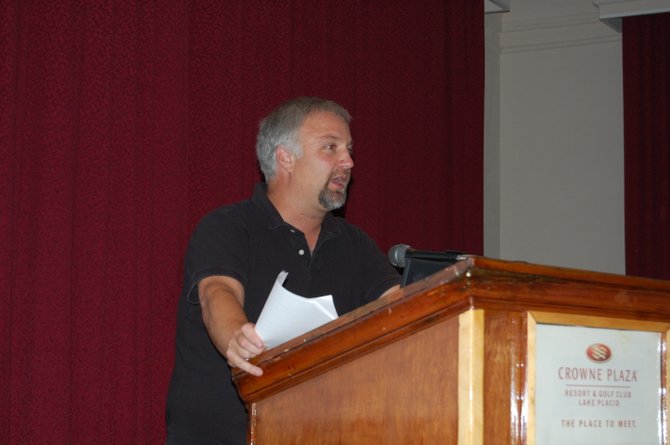 continued — The town of North Elba has received a federal grant for $1.2 million, which, added to earlier grants and available funding, amounts to $3.3 million, Beamish said. This money should be allocated to create the recreational trail connecting the Tri-Lakes.
"In addition to this, another $600,000 (is) to be gained from salvaging the rails and tied," Beamish said. "So that adds up to $3.9 million and that would cover most, if not all, of the cost of a recreational trail from Placid to Tupper."
Diane Miller, of Saranac Lake, speaking from the audience, said the recreational trail might have to find other sources of funding.
"It seems like being in America in today is finding another way; the funds aren't there for anything," Miller said. "I think part of it is....using our own manpower."
Jim McCulley, president of the Lake Placid Snowmobile Club, and a member of ARTA's steering committee, said snowmobilers couldn't ride on railroad tracks for a number of reasons.
"For snowmobiling to be possible on the rail bed during the winter time, we need two feet of snow minimum," McCulley said. "That snow has to be of a proper consistency."
Riding on the rails outside of these conditions causes damage to one's machine. Removing the tracks would allow for more winter riding days for snowmobilers, McCulley said.
John Hopkinson, of Lake Placid, speaking from the audience, said putting the conversion to a vote would help convince elected officials to change the status quo.
"I think around this room we're kind of somewhat preaching to the choir," Hopkinson said. "What I would like to suggest is that someone put together a well-constructed, non-binding referendum that goes onto the local elections."
Carl Knoch, an invited speaker at the event, the northeast trails director for the national Rails-to-Trails Conservancy, provided case studies of conversions in Pennsylvania similar to the one advocated for by ARTA.
"If you build it, they will come and they will spend money," Knoch said, summarizing his research.
Vote on this Story by clicking on the Icon