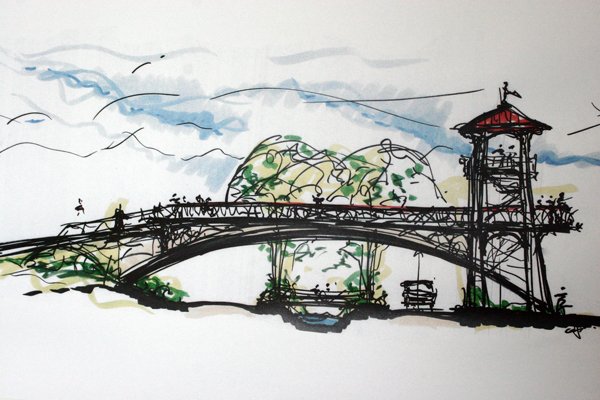 continued — The structures, likely to cost hundreds of thousands of dollars, are designed to be situated on land that the state and federal governments have pledged the most assistance, county officials said, so the impact on local taxpayers is likely to be minimized.
A possible feature is an ornate carousel, once a featured attraction at Gaslight Village, situated of the property from the mid-1900s until 1989 when it closed down.
Chester Supervisor Fed Monroe, head of the county committee planning the park, said Lake George Mayor Robert Blais tracked down the two-tiered carousel — sold years ago at an auction — and it's still in good shape.
"It's very iconic, and it's available," Monroe said.
Monroe and Blais said the park would likely be developed in stages, as grant funding is pledged, making various features feasible, step by step.
Nagle said that the concepts were likely to become more concrete in the next several months, with a public presentation of the plans as soon as late September.
Progress on the plans would be in conjunction with lining up grant funding, she said.
"We're moving forward," Nagle said.
After seeing the plans, Glens Falls Supervisor Ward Five Supervisor Bill Kenny said he was impressed.
"This is the most significant project in our area for the past 40 years," he said.
"These are ambitious, promising plans that will hopefully enhance Lake George as a destination," Lake George Town Supervisor Frank McCoy said.
Mayor Blais also praised the plans.
"The entrance building, the skate park, the waterways and elevated walkway with the observation tower are all great features," Blais said. "We just have to be patient with the funding."
Area officials said this week that the flooding of West Brook would not substantially change the planning process, although further stormwater management measures might have to be incorporated into the development plan so West Brook can handle such large volumes of water in the future.
Vote on this Story by clicking on the Icon