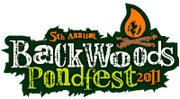 Peru — Backwoods Pondfest is back and better than ever.
The annual music festival is marking its fifth year and is doing it by adding more bands to its lineup and adding a second stage to the venue, said Chris Boire, one of the event's organizers.
"We are so excited this year," said Boire. "We say it every year, but we keep upping the band budget and increasing the talent. There is not one band that I want to miss on either stage."
The two-day music festival — Friday, Sept. 9, and Saturday, Sept. 10 at Twins Pond Campsite — will consist of more than 20 bands from across the region and beyond, said Boire. Bands include Dumpstaphunk, Chali 2na, Rubblebucket, Spiritual Rez, Ulu, Kung Fu, Hot Day at the Zoo, Twiddle, Thunder Body, Gordon Stone, Bearquarium, Capital Zen, Ikebe Shakedown, Sophistafunk, Timbre Coup, Tim Herron Corporation, Shameless Strangers, Aqueous, Roadside Mystic, SwitchaRoo, Dynamic Operations and Lucid, which will serve as the event's host band, playing both nights.
"We have such a great line-up from start to finish so it should be a good year," said Katie Bazzano, one of the festival's founders and another organizer of the event.
Backwoods Pondfest has become "a big production," said Boire.
"We have a huge sound system, top techs running the equipment, including the sound engineer from the Higher Ground mixing the sound for the main stage," he said. "We've added the folks of the Liquid Light Show to illuminate all of the stage walls to add to the visuals of the show and we added a second tent so there are no breaks in music as one bands stops."
Since 2007, Backwoods Pondfest has grown each year, with the traffic to the event's website, www.backwoodspondfest.com, picking up steadily.
"Our web traffic has really picked up from last year to this year and buzz from not-typical festival goers is high," said Boire.
(Continued on Next Page)
Prev Next
Vote on this Story by clicking on the Icon