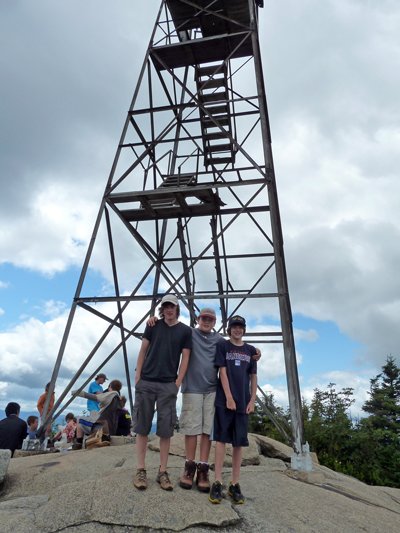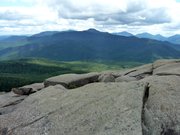 A few weeks back, I had the good fortune of joining a group of young men for a hike up Hurricane Mountain, near Elizabethtown. I'm almost ashamed to admit it, but my return to the local peak was long overdue.
Although I had climbed it often, while working for a DEC Trail Crew in the 1970's; it had been nearly thirty years since I feasted on the view from the summit. Hurricane, which is located miles to the east of the High Peaks, and miles to the west of Lake Champlain, offers one of the finest summit vistas available in the park.
Enjoying a lunch on the summit, in the shadow of the remaining firetower, was like dining in the home of an old friend. It was a beautiful summer day, and the fluffy clouds and a brilliant sun masked any potential danger of foul weather.
Despite the required preparations, and the leisure of our journey; nothing had prepared us for the short, silent, yet sharp weather that soon battered us that afternoon.
In the distance, it appeared at first to be just a low, dark cloud, which was shadowed by the slight shimmer of a summer rain. However, as it blew over the summit, the cold driving rain was aided in it's fury by pelting hail, and a cold hard wind. In an instant, our shorts and t-shirts were soaked, and the visibility was gone. We were being battered by the elements in a dark, cold cloud, under a previously sunny sky.
The foul weather passed, as quickly as it had arrived. The sun returned, and with it, the vast view. The heat of the day quickly seared away the chill, but a lesson had been learned.
There is no denying it, the Adirondacks are a land of extremes. Although the park encompasses rare natural beauty, rugged topography, unrivaled waters and a variety of unique natural, and manmade communities; it also features incredible extremes of weather, extremes of economy and extremes of patience. Fortunately, the region also happens to be inhabited by some extremely tough and hardy folks, whose character has been shaped by the lands that surround them. It is the environment that builds this character, and creates these unique characters.
Joe Hackett is a guide and sportsman residing in Ray Brook. Contact him at brookside18@adelphia.net
(Continued on Next Page)
Prev Next
Vote on this Story by clicking on the Icon