Photo Gallery
Tropical Storm Irene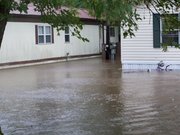 Tropical Storm Irene descended on the region Aug. 28, leaving in its wake a path of destruction with hundreds of downed trees, and building damage. As of 11 a.m. Monday, Aug. 29, more than 4,000 remained without power as National Grid and NYSEG scrambled to restore electricity.
Lake George — Hurricane Irene moved through the area Sunday, with its heavy persistent rains causing millions of dollars of damage to properties and roadways, while its powerful wind felled trees that brought down power lines, plunging tens of thousands of people into darkness.
Authorities estimated that it could be days before power is restored in some locations.
Although Irene was downgraded Sunday to a tropical storm, it disrupted life as it made history.
The day-long rainfall — measured at nearly 4 inches — overwhelmed streams which jumped their banks, leaving the raging waters to tear up roadways and properties.
In Lake George Village, substantial property damage was due to floods was experienced by the Blue Moon Motel, Motel 6, Seven Dwarves Motel & Cabins, and the Woodbine Motel, among others.
Several homes in the "Big Hollow" settlement off Rte. 9 just north of Lake George Village were swallowed by the raging waters of nearby English Brook as the waterway changed its course due to waters a dozen feet or more higher than normal.
County sheriff's deputies were seen wading through the stream's roaring floodwaters at shortly after 7 p.m., knocking on doors telling people to leave their homes. Lake George firefighters, responding to an emergency call, attempted to evacuate a woman from a trailer in the Big Hollow, but she refused to leave, despite the water tearing away the foundation of her trailer and rushing into her home, firefighter Jim Barber said in frustration as he left the scene.
On the lake, the high winds whipped up high waves that tore up public and private docks, ripped boats from moorings, sunk some of them and sent others bobbing on the waters. At least one wayward boat floated up onto Million Dollar Beach Sunday afternoon.
Roadways were ripped up or flooded, causing them to be closed much of the day.
(Continued on Next Page)
Prev Next
Vote on this Story by clicking on the Icon