Photo Gallery
Tropical Storm Irene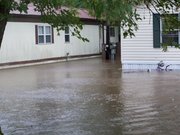 Tropical Storm Irene descended on the region Aug. 28, leaving in its wake a path of destruction with hundreds of downed trees, and building damage. As of 11 a.m. Monday, Aug. 29, more than 4,000 remained without power as National Grid and NYSEG scrambled to restore electricity.
As utility workers worked feverishly to repair dozens of downed power lines and burned-out transformers in the region damaged by Tropical Storm Irene — and Lake George Village remained without power — local municipal authorities met Monday morning to devise an emergency action plan.
National Grid representatives said Monday morning the storm damage to power lines and equipment was so widespread in the region that most of the work was at this point primarily assessing the extent of the outage.
National Grid spokesman Patrick Stella said that in the company's territory in eastern/central New York, 140,000 households and businesses lost power Sunday due to the storm, and of these, 120,000 remained without power at 9:30 a.m. Monday.
"We made a little bit of progress overnight," Stella said. "We'll be working on power restorations throughout Monday, Tuesday and Wednesday and we'll continue for as long as it takes."
Stella said about 700 line crews, or nearly 3,000 utility repair workers, were at on duty — most all through the night — assessing damage or attempting to restore power. The crews were working on 16 to 18 hour shifts.
As of 9:30 a.m. Monday, still lacking power were 17,400 homes and businesses in Warren County, 21,000 in Saratoga County, 4,900 in Essex County, and 3,3000 in Washington County, Stella said.
"One of the big challenges is flooding, as there are still a lot of road closures, and travel to the affected sites will be challenging," he said, adding that company officials are warily watching waterways near substations due to potential flooding.
Utility crews were brought in from as far away as Iowa, Ohio and Tennessee to work on restoring power, he said.
The Lake George Village Hall was dark Monday morning, but the town hall was fully operational due to its generator backup system.
(Continued on Next Page)
Prev Next
Vote on this Story by clicking on the Icon