Photo Gallery
Irene's aftermath in Keene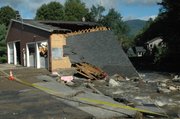 Keene residents cope with the effects of Tropical Storm Irene, which came through the region Aug. 28.
Keene — After directing a truck where it was needed, Keene Supervisor William Ferebee just looked around Monday morning at the devestation left in the aftermath of Tropical Storm Irene.
"I see people just walking around in awe," he said, with a similar expression. "So many people have been affected."
Keene lost several homes, roads and the Keene Volunteer Fire Department building as a result of the winds and rains of Tropical Storm Irene that lead to severe flash floods in Essex County.
"Everybody is helping everybody right now, which is what this town does," Ferebee said. "We are going to look at everything and determine where we go from here."
The trouble started Sunday evening, Aug. 28, when the Gulf Brook overran its banks and left a path of devastation through the hamlet of Keene. Houses were destroyed, roads were washed out and rocks and boulders lined the brook, along with the remains of roads and buildings, including the firehouse.
"We were out assessing damages and doing whatever we could to help the community," Keene fire commissioners chairman Alan Carey said. "Then, we were trying to figure out how to help the firehouse when we were trying to help everyone else."
Carey said the department was able to save all big equipment and all needed files.
"We saved most of the essentials," he said. "We lost some turnout gear, suction hose, some office equipment and all of our kitchen equipment. We saved all of our major things."
On Monday morning, Aug. 29, Jay Haws was finally able to make it to his business, Dart Brook Rustic Goods, to start the cleanup process.
"We closed up everything early Sunday and locked everything down," Haws said. "We got a call from next door and they said that things were getting bad, but we couldn't get down here."
(Continued on Next Page)
Prev Next
Vote on this Story by clicking on the Icon