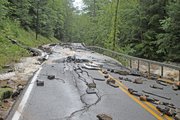 Ticonderoga — By the time Hurricane Irene reached the Ticonderoga area on Sunday, it had been officially downgraded to a tropic storm.
Try telling that to residents who dealt with flooding and power outages.
"It was literally within 6 inches of my house," Ti resident Dawn Kelly said of flood waters on the Vineyard. "My daughter (McKenna) walked across the yard and the water was up to her chest. I couldn't believe it."
To protect her home Kelly raced to a local store to buy sand bags. Finding none, she purchased bags of mulch and used them as a barrier to keep the water a bay.
"I thought I would have to leave my house," Kelly said Sunday evening, "but it's starting to recede."
The remnants of the hurricane dumped heavy rain and brought strong winds that caused flooding, downed trees and left thousands with out electricity.
Town and county highway workers, firefighters, police and others responded to the storm, which began with light rain at about 2:30 a.m. Sunday. The strongest portion of the storm hit at about noon and lasted until about 4 p.m. Rain continued into Monday morning.
Flooded basements were the norm and travel was brought to a virtual halt.
In Ticonderoga Route 9N, Hayford Road, New Hague Road, Baldwin Road, Charboneau Road, Killicut Mountain Road, Putts Pond Road and Old Chilson Road were all closed.
"We declared a local state of emergency Sunday for the severe road washouts and floodings," Ticonderoga Supervisor Deb Malaney said. "It's bad out there; nine roads were completely closed and two are down to one lane. Some are county roads that the county will repair.

"This (Monday) morning we had to declare a water conservation emergency because of line breaks at Gooseneck water supply," she added. "We'll use Lake George water for the time being, but residents need to use water sparingly until the problems are solved. The Department of Health and AES Engineers are on their way now to assist.
(Continued on Next Page)
Prev Next
Vote on this Story by clicking on the Icon