Photo Gallery
Tropical Storm Irene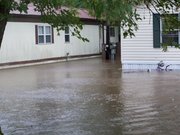 Tropical Storm Irene descended on the region Aug. 28, leaving in its wake a path of destruction with hundreds of downed trees, and building damage. As of 11 a.m. Monday, Aug. 29, more than 4,000 remained without power as National Grid and NYSEG scrambled to restore electricity.
Plattsburgh — The Clinton County Office of Emergency Services has announced a list of roads closed within Clinton County as a result of stormwaters seen over the weekend.
The following locations are as reported 5 a.m. Monday:
City of Plattsburgh: Marcy Lane from Lincoln to Joyce Avenue, and Rugar Street from Kennedy Avenue to College Avenue.
Town of Plattsburgh: Carbide Road near Pleasant Ridge Road, I-87 south of 38 between 38 and 37 southbound, Rand Hill Road (near American Legion Post 1619), State Route 3 to 4 Season to Vaughn Road, Spellman Road near Moffit Road (one lane), State Route 374 from Church to Trudeau Roads; St. John Road to Pleasant Ridge Road; Trudeau Road to State Route 3, Wallace Hill Road, I-87 exit ramps at exit 39 closed, State Route 3 from Rand Hill Road to Cadyville Line; and Gene LeFevre Road.
Altona: Atwood Road, Harvey Road, Miner Farm Road near Bruwnell Road, Miner Farm Road at Devils Den Road, Rand Hill from Box 1911 to State Route 190, Recore Road, State Route 190 from Devils Den Road to Recore Road, Devils Den Road from State Route 190 to Feinberg Bridge, Forrest Road, Barnaby Road (near bridge), and Alder Bend from Rabideau and Terrien Road.
Ausable Forks: State Route 9N between Jay and Ausable Forks, State Route 9N in Ausable Forks by Stewart's, Corlear Bay Road, Auger Lake Road, Nichols Road, Clark Road, Doghill Road (access from Mountain Road), and State Route 9N (west of Clintonville Road).
Beekmantown: Durand Road from Butler to Smokey Ridge, General Lee Roy Manor Road, Jersey Swamp, and Golden Road.
Black Brook: McCray Road, Nelson Road, and Shaw Road. The bridges on Golf Course Road and Palmer Road are also out.
Champlain: Fairbanks Road, Mason Road, State Route 9B near State Route 377, State Route 9B at Hayford Road, and Lavalley Road between State Route 9 and Ridge Road.
(Continued on Next Page)
Prev Next
Vote on this Story by clicking on the Icon