Photo Gallery
Champlain Bridge arch in Port Henry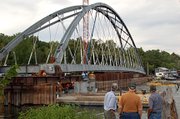 Crown Point — Visitors gathered here Wednesday, Aug. 24 as Flatiron Construction workers put the finishing touches on the arch span that will be a key component of the new Lake Champlain Bridge.
The arch had been scheduled to be lifted into place the next day, but because of forecasts of high winds and lightning, the transfer was postponed until Friday, Aug. 26.
Jane Laundree, of Ticonderoga, said she and her companions were debating whether to attend the then scheduled early morning arch raising the next day.
"It's a historical moment," Laundree said, explaining why she was at the construction site. "I think it's awesome."
Albert Mayer, of Port Henry, said he was there to see the construction.
"I worked on bridges all the way from Georgia up to New York state," Mayer said, adding he was going to try to arrive at 4 a.m. the next day to see the raising.
Laureen Oxley Carson and George Carson, both from Mineville, were excited for the bridge opening.
Laureen said living without a bridge was "extremely inconvenient."
"My daughter, Thistle, worked over at Northlands and sometimes she will be on the road three or four hours, in the winter especially," Laureen said. "This is a pretty big project for this area. It lends a lot of excitement."
George agreed.
"I think it's fantastic," George said of the structure opening. "I'm sick of not having a bridge."
New York State Department of Transportation (DOT) Commissioner Joan McDonald said the lift would demonstrate the bridge project is nearing completion.
"This is an exciting and historic moment for the people in the region who heavily depend on the bridge for their livelihoods. I would like to extend my appreciation to them for their patience as we move forward toward the final phase of the project," McDonald said.
(Continued on Next Page)
Prev Next
Vote on this Story by clicking on the Icon