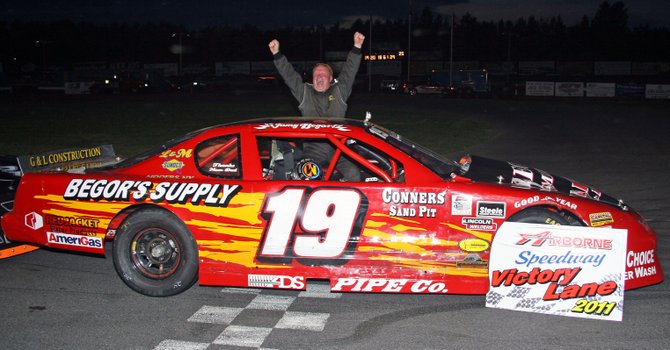 continued — His Northfield Utilities No. 4 got turned around by Howard Stoner, who had just overtaken Duquette for second place. Both cars were sent to the rear. That set the stage for Begor to take over and win by four car-lengths over Bucko Branham. Branham beat Duquette to the line by two feet. Robin Wood was a close fourth, followed by Nick Heywood, Travis Bruno, Jamie Atkins and Danny Sullivan.
"I tried to be in whatever lane was going forward," Begor said. "The preferred line was the outside. It feels really good to get the win. It's been a while for me."
Rick Doner of Ausable Forks, the former Mini Modified champion, won a Renegade thriller in a photo finish, besting Joe Warren of West Chazy. Point leader Kevin Boutin was a few feet away in third. Lance Rabtoy and Josh Terry completed the top five. It was Doner's first career win in the Renegade division.
Jason Durivage of West Chazy won the Busch Bomber 25-lap special. Johnmichael Bresette and Dale O'Neil placed second and third.
Mini Modified point leader Speedy Bresette denied Erick Sayles' bid for his sixth win by beating him to the wire for his first win of the season. Kris Clark was third. Josh Laporte and Jamie LaFountain were next in line.
The Modifieds will go without roofs on the progressively-banked Airborne half-mile Saturday, Aug. 27, for the Dick Nephew Memorial presented by Liquor & Wine Warehouse. Also on tap, the make-up of the Versatile Trailer Sales Renegade 50 that was rained out in June.
Vote on this Story by clicking on the Icon