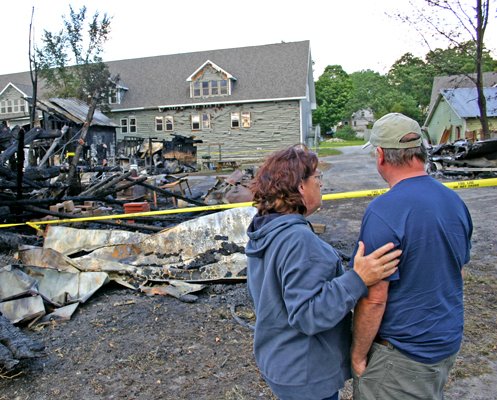 continued — "My son Karl lost everything," she said, noting that his possessions, tools, and his workshop at the site were destroyed. Due to the blaze, Kent Duell lost all his construction equipment, tools, and a substantial amount of building materials, as well as several vehicles.
The coal bin, the Glendale Antiques building and the adjacent storage shed were full of household goods, furniture, personal items, tools, equipment and antiques, she said.
"There was tons of stuff stored there," she said.
Several of the vehicles, including a vintage 1972 Triumph, and two boats were as far as 40 feet away from the raging fire — and apparently they burst into flames due to the intense heat.
The carriage-house apartment building closer to River St. that the Duells also own endured substantial damage.
The building housed the Duells' son Karl Jr., his new wife Karen, and their two-month old baby. They were at home at the time of the fire, Glenda Duell said.
The fire's intense heat shattered their bedroom window and kitchen window, and the mini-blinds in the windows behind the glass were melted.
Glenda Duell said Karl became aware of the fire, ran out to move several of the vehicles, but was repelled by the intense heat. His truck and car were destroyed in the fire.
Firefighters from Bolton, Chester were on the scene with fire engines, and Lake George firefighters attacked the blaze from their tower truck. Also responding were firefighters from Thurman, North Queensbury, and Queensbury Central. Hadley-Luzerne firefighters were on alert. A total of 75 firefighters were on the scene, about 20 of them from Warrensburg, Hall estimated.
The firefighters collaborated to crate a curtain of water on several sides of the burning structures, Hall said, to contain the damage due to the inferno.
Duell said that about six weeks ago, an unknown vandal started a fire in the coal bin, and that it smoldered for days, but was extinguished, and she blamed the most recent blaze on arson.
Vote on this Story by clicking on the Icon