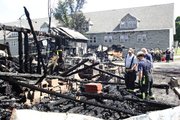 Warrensburg — A fast-moving fire Monday morning in a historic area of River Street consumed three structures and damaged four others, and the co-owner of the destroyed, uninsured buildings said she suspected arson was the cause for the blaze which caused a loss of $300,000 or more.
The blaze was called in just before 7 a.m. Aug. 22, according to Warrensburg 2nd Assistant Chief Alan Hall Jr., who was the first on the scene.
He said that when he arrived, flames were shooting out if the historic three-story Emerson railroad coal bin beside Mill Avenue.
"The coal bin structure was totally involved," he said. "It was a very fast-moving fire producing intense heat."
Two nearby structures, one housing Glendale Antiques and another used solely for storage, were also in flames. All three buildings are owned by Glenda and Kent Duell of Thurman.
Hall and other Warrensburg firefighters arriving soon afterwards immediately got to work attempting to save nearby buildings, he said.
The fire had erupted in the metal-sided R&D Transmission building about 30 feet away, but firefighters and the transmission repair employees put out the blaze before it could ignite explosive pressurized gases used for welding as well as petroleum substances.
The heat from the blaze destroyed seven vehicles, two boats and a camper-trailer, Hall said. Most if not all were owned by the Duells, and several of them were not insured for casualty loss.
The fire's heat also shattered windows in the River Street Plaza building and CWI building across Mill St, both of which suffered substantial damage to their siding.
Glenda Duell, on her way back from a trip to Virginia, said via cell phone that she and her husband Kent, her son Karl Jr. and other relatives had suffered substantial losses because the destroyed buildings had been used to store personal belongings of family members.
(Continued on Next Page)
Prev Next
Vote on this Story by clicking on the Icon